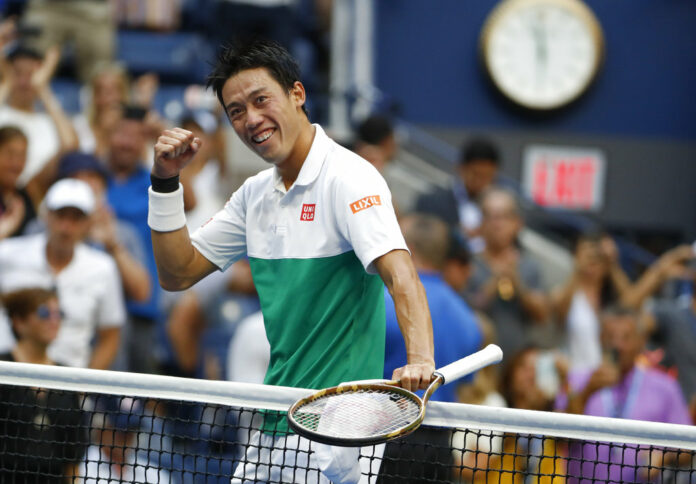 NEW YORK — Kei Nishikori looked around Arthur Ashe Stadium and noticed the crowd.
With Nishikori playing immediately after Naomi Osaka on Wednesday, the U.S. Open became must-see viewing for Japanese tennis fans.
"It's good to have, you know, home support outside of Japan," he said. "Yeah, it's great news we're both in the semis."
Historic news, actually.
Both players won – Osaka decisively, Nishikori narrowly – to give Japan a men's and women's semifinalist at the same Grand Slam tournament for the first time, according to the ATP Tour.
Nishikori rallied to beat Marin Cilic 2-6, 6-4, 7-6 (5), 4-6, 6-4 in a match that lasted 4 hours, 8 minutes. Osaka routed Lesia Tsurenko 6-1, 6-1 in just 57 minutes, the third time in her five matches in the tournament that she finished in less than an hour.
"I think she can, you know, win a title now, even (a) Grand Slam. So I feel, you know, big chance for her," Nishikori said.
"Also happy for myself, too, being injured last year."
That was a wrist injury that kept him off the tour from late last season until early this year. He started to regain his form in the spring, was back up to the No. 21 seed for his return to Flushing Meadows, and awaits either No. 6 Novak Djokovic or unseeded John Millman on Friday.
Meanwhile, Osaka won a Masters title at Indian Wells and with her strong run in New York, where she will next play 2017 U.S. Open runner-up Madison Keys, she has picked up more of a following from the Japanese media – though she believes there's a different reason for that.
"I think it's because of Kei," she said, holding her hands apart to show how much bigger Nishikori is in Japan, from where her family moved to New York when she was 3.
So big, in fact, that she was too nervous to talk to him until recently.
Once she did, the 20-year-old Osaka found they had plenty in common. Nishikori, 8 years older, was like a "really big kid" who liked to play video games and have fun like her.
"Overall, he's just really nice and positive and bubbly and stuff," Osaka said.
Only once had Japan had a man and woman reach the quarterfinals of the same major, and Shuzo Matsuoka and Kimiko Date both lost in that round at Wimbledon in 1995.
Nishikori and Osaka are looking to keep right on going. Their victories provided a boost to their baseball-crazed country on an otherwise downer of a day with the news that Los Angeles Angels star Shohei Ohtani had new damage in his right elbow and major surgery was been recommended.
When Nishikori became the first Asian male to reach a Grand Slam singles final four years ago, hundreds of fans packed into a convention hall to cheer him on at a standing-room-only public viewing event in his hometown of Matsue.
Now there might be two such events in Japan this weekend.
"Hopefully we do well this week," Nishikori said.
Story: Brian Mahoney