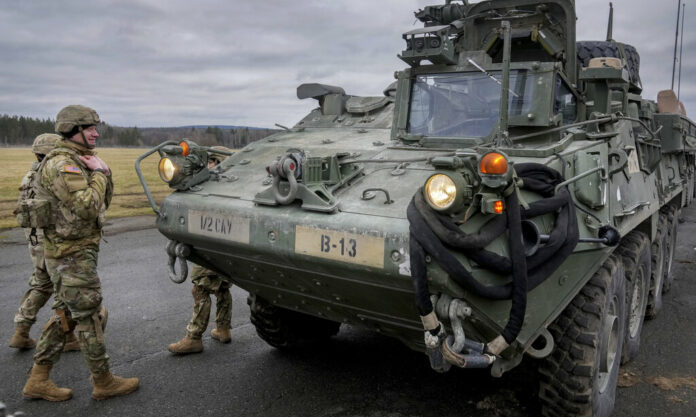 RAMSTEIN AIR BASE, Germany (AP) — Defense leaders are gathering at Ramstein Air Base in Germany Friday to hammer out future military aid to Ukraine, amid ongoing dissent over who will provide the battle tanks that Ukrainian leaders say they desperately need to recapture territory from Russia.
U.S. Defense Secretary Lloyd Austin and Army Gen. Mark Milley, chairman of the Joint Chiefs of Staff, are expected to discuss the latest massive package of aid the U.S. is sending — which totals $2.5 billion and includes Stryker armored vehicles for the first time.
But broader hesitation over sending tanks to Ukraine has roiled the coalition, as Germany facees mounting pressure to supply Leopard 2 tanks to Kyiv, or at least clear the way for others — such as Poland — to deliver German-made Leopards from their own stock.
The U.S. has also declined, at least so far, to provide M1 Abrams tanks, citing the extensive and complex maintenance and logistical challenges with the high-tech vehicle. The U.S. believes it would be more productive to send Leopards since many allies have them and Ukrainian troops would only have to get trained on that one, versus needing far more training on the more difficult Abrams.
The United Kingdom announced last week that it will send Challenger 2 tanks, and has said it's a natural progression of military aid to Ukraine.
At a Pentagon briefing Thursday, spokeswoman Sabrina Singh said the Leopard and Challenger aren't comparable to the Abrams because the Abrams is much harder to maintain and wouldn't be a good fit.
"It's more of a sustainment issue. I mean, this is a tank that requires jet fuel, whereas the Leopard and the Challenger, it's a different engine." The Leopard and Challenger are "a little bit easier to maintain," Singh said. "They can maneuver across large portions of territory before they need to refuel. The maintenance and the high cost that it would take to maintain an Abrams — it just doesn't make sense to provide that to the Ukrainians at this moment."
The package of aid being sent by the U.S. includes eight Avenger air defense systems, 350 Humvees, 53 Mine Resistant Ambush Protected (MRAP) vehicles, more than 100,000 rounds of artillery ammunition and rockets, and missiles for the High Mobility Artillery Rocket System. It was announced Thursday by the Pentagon.
Germany's new defense minister, Boris Pistorius, who took office just an hour before he met with Austin on Thursday, is among those likely to attend the Ramstein meeting. Referring to the tanks, he told ARD television he was "pretty sure we will get a decision on this in the coming days, but I can't yet tell you today how it will look."
It wasn't clear if the tank issue came up during his initial session with Austin. During brief comments before the meeting began, Austin said, "we'll renew our united commitment to support Ukraine's self-defense for the long haul," but didn't mention any specific new equipment.
Nearly 11 months into the Russian invasion, Ukrainian President Volodymyr Zelenskyy has expressed frustration about not obtaining enough weaponry from the Western allies.
Speaking by video link on the sidelines of the World Economic Forum's annual meeting in Davos, Switzerland, Zelenskyy offered a veiled critique of major supporters such as Germany and the U.S. that have hesitated about sending tanks.
Bemoaning a "lack of specific weaponry," he said, through an interpreter, "There are times where we shouldn't hesitate or we shouldn't compare when someone says, 'I will give tanks if someone else will also share his tanks.'"
German officials have conveyed their hesitancy to allow allies to give Leopards unless the U.S. also sends Ukraine the Abrams, according to a U.S. official who wasn't authorized to comment and spoke on condition of anonymity. But there have been no signs that the U.S. decision to not send Abrams is shifting.
Milley told reporters traveling with him this week that complex new U.S. training of Ukrainian troops, combined with an array of new weapons, artillery, armored vehicles heading to Ukraine, will be key to helping the country's forces take back territory that has been captured by Russia in the nearly 11-month-old war.
The goal, he said, is to deliver needed weapons and equipment to Ukraine so the newly trained forces will be able to use it "sometime before the spring rains show up. That would be ideal."
Under Secretary of Defense for Policy Colin Kahl also said this week that a new phase of the war is shaping up as Russia gets more deeply entrenched, and that Ukraine will need mechanized infantry to break through those lines.
The influx of new weapons, tanks and armored carriers comes as Ukraine faces intense combat in eastern Ukraine around the city of Bakhmut and the nearby salt mining town of Soledar. The battles are expected to intensify in the spring.
___
Story: Lolita C. Baldor and Tara Copp. Copp reported from Washington.