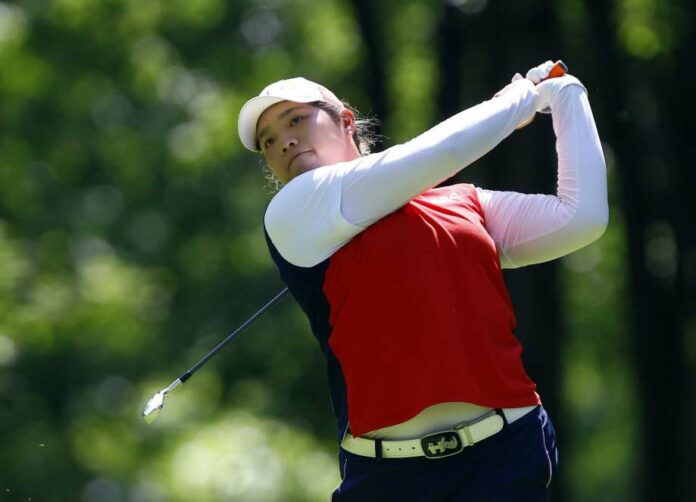 REGINA, Saskatchewan — Ariya Jutanugarn birdied five of her last eight holes for an 8-under 64 and a share of the CP Women's Open lead Thursday at rain-softened Wascana Country Club.
Nasa Hataoka and Mariajo Uribe joined the second-ranked Ariya atop the leaderboard, with Canadian star Brooke Henderson and three-time champion Lydia Ko two strokes back.
With players allowed to lift, clean and place their golf balls in the fairways because of the damp conditions, Ariya birdied the first four holes in the morning round and finished with nine birdies and a bogey in sunny, hot conditions.
"Today my goal was don't worry about the future too much," Ariya said. "Don't think about what I'm going to shoot today. Just try to focus on things I can control."
The soft conditions didn't last long on the greens.
"It's pretty tough," Ariya said. "It's getting more firm. It's very quick."
The Thai star won the event two years ago in Calgary. She's tied for the tour victory lead with three, winning the U.S. Women's Open, Kingsmill Championship and Ladies Scottish Open.
Hataoka, the Japanese player who won the NW Arkansas Championship in June for her first tour title, played in the afternoon. She also had nine birdies and a bogey.
"There was no wind today so I was able to attack the pins," she said through a translator.
Uribe, from Colombia, birdied five of the first seven holes in her bogey-free morning round.
"It's nice to start with a bogey-free round to actually see my golf game getting where I know it is," Uribe said. "It's going to be a good week."
Angel Yin and Nanna Koerstz Madsen shot 65, and Henderson and Ko were at 66 with Jessica Korda, Minjee Lee, Austin Ernst, Amy Yang and Mariah Stackhouse.
"I've been playing well for the whole year and now I'm scoring," Yin said.
Henderson had eight birdies – six in a seven-hole stretch from the fourth to the 10th – and two bogeys in her afternoon round.
"It was really solid today," Henderson said. "I kind of got off to a little bit of a shaky start with a bogey on the 1st hole, but I made a ton of birdies today and that's always a really good sign."
Jocelyne Bourassa is the only Canadian to win the national championship, accomplishing the feat in the inaugural 1973 La Canadienne at Montreal Municipal. Henderson won the LOTTE Championship in April in Hawaii for her sixth tour title.
Ko won in 2012 at Vancouver Golf Club at age 15 to become the LPGA Tour's youngest winner and fifth amateur champion. The New Zealander successfully defended her title as an amateur in 2013, winning by five strokes in Edmonton. In 2015, back at Vancouver as a pro, she beat Stacy Lewis in a playoff.
"I heard that the forecast is a little different tomorrow, so I think playing conditions are going to be very different," Ko said. "I think that's why it's really good to post a lower number when it was a little easier than what it can be."
Paired with Ariya, Korda birdied six of the first eight holes, then played her second nine – the front nine at Wascana – in even par with two birdies and two bogeys.
"Just trying to keep it in the fairways," Korda said. "Got a lot of wedges in my hand and so was being really aggressive with it. As the day went on, the greens got a lot faster. I was not expecting that. I started having 6-footers coming back for par. That's where all my bogeys came from."
Defending champion Sung Hyun Park had a 70 in the group with Henderson. Park won last week in Indianapolis for her third victory of the year.
Lexi Thompson opened with a 72, playing alongside Ko and Women's British Open champion Georgia Hall (68). Winless in more than a year, Thompson tied for 12th last week in Indianapolis after taking three weeks off for emotional and mental fatigue.