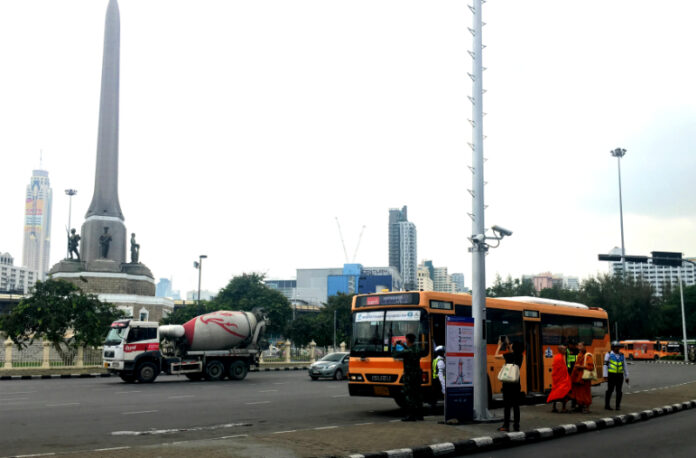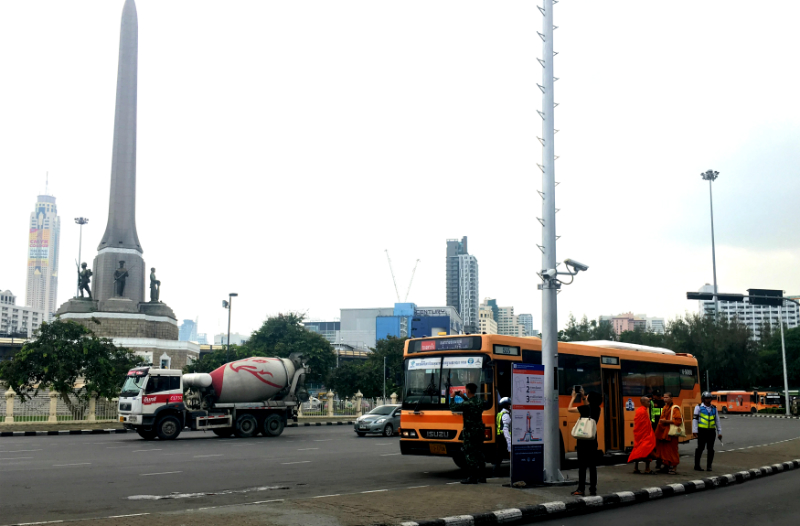 BANGKOK — Instead of walking straight to Rajavithi Hospital from where his van stops at Victory Monument, Prasit Ngeyong on Tuesday had to add a 20-minute taxi ride to reach his regular doctor's appointment.
Years of effort in ending the use of the iconic traffic circle as a national transit hub appeared to prevail this morning, with interprovincial vans now operating out of the northern bus terminal.
Despite notice in July that privately operated vans used to travel to and from other provinces would no longer be allowed to park there, some commuters, including Prasit, had no idea until Tuesday.
"I don't agree with the policy," said the 58-year-old, who travels from his native Rayong several times per month for treatment of his glaucoma. "The farther distance means I have more traveling expenses."
Read: Junta Takes Another Go at Clearing Vans From Victory Monument
More than 4,000 vans which service destinations up to 300 kilometers from Bangkok were ordered out from Victory Monument as part of the junta's campaign to improve traffic flow.
A few van stands which take commuters to suburban locations in greater metro Bangkok were allowed to continue parking there.
The vans which for decades had converged on the monument have been rerouted to three the capital's three bus terminals: northern (north, northeastern and central provinces), eastern (eastern provinces) and southern (western and southern provinces).
To help commuters reach those locations, free shuttles now depart Victory Monument every 20 minutes. Shuttles to the northern and southern terminals leave from the northwest corner of the roundabout. Find the shuttle to the eastern terminal at the northeast corner – or just take the Skytrain to BTS Ekkamai.
Many signs were visible Tuesday around Victory Monument offering information for commuters, as were transit officials and military officers.
Also present was Deputy Transport Minister Omsin Chiwaphruek, who said everything seemed to be going smoothly. He also pledged ongoing support of the free shuttle service.
"The free shuttle bus will continue indefinitely," he said.
In the opinion of one transit official from the Bangkok Mass Transit Authority, traffic was moving better.
"But we still cannot make a real comparison until schools open again," said Chamnan Yoosa-ard, who arrived at 5am to provide information to commuters.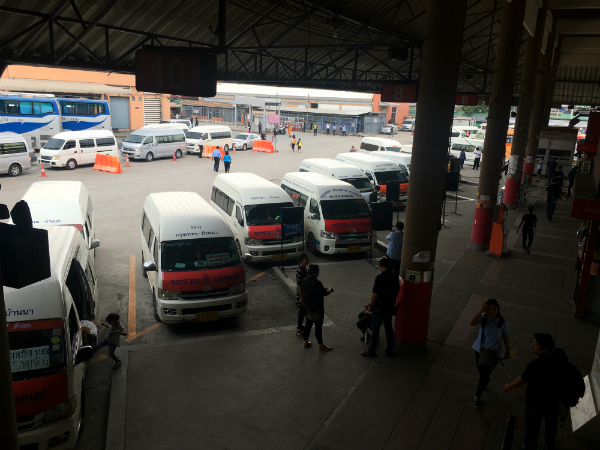 Chamnan said most people were understanding of the change, including those from the provinces who did not know about the change until they arrived and had to modify their routes.
Some commuters said they found it inconvenient.
A woman who refused to give her name due to fear of repercussions for criticizing the junta's policy said Victory Monument had been an convenient interchange for travel between other provinces via Bangkok.
Instead of hopping out of one van and into another, she said the new system added a nearly 20-kilometer trip between the eastern and northern bus terminals to continue her journey between Chonburi to Lopburi provinces.
Although the move appeared successful today, it was a long time in coming. Soon after seizing power in 2014, the military regime tried and failed to relocate the interprovincial vans to a space under Airport Rail Link Makkasan.
However, they successfully introduced some regulations, such as requiring ticket booths to display consistent information and uniforms for drivers.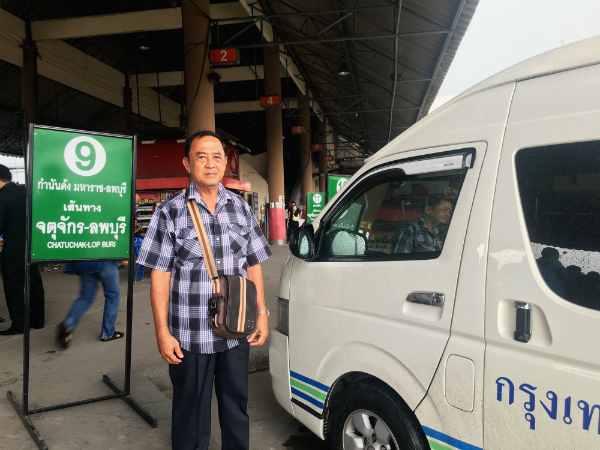 Tingthong Ngubootton manages vans running to Lopburi province. He said his customers dropped by 40 percent today.
"It should be back to normal by next month, when everyone learns about the change," he said.
The 70-year-old manager said his only concern was that the ticket booth at Mo Chit was located far from where the vans park. He said it was inconvenient for passengers with luggage.
For more information contact the Transport Ministry hotline at 1490 for service in Thai or English.