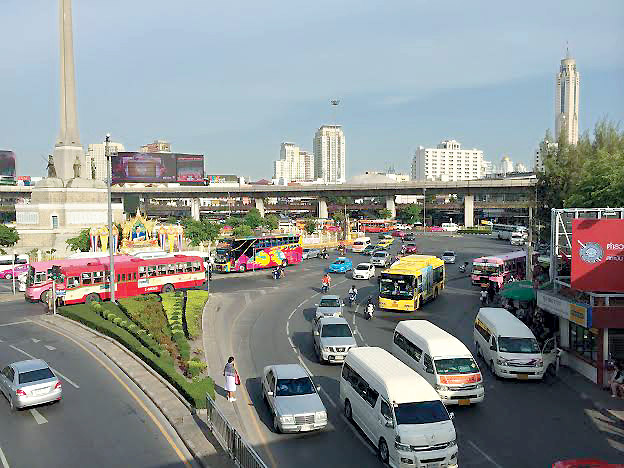 BANGKOK — A renewed bid to untangle the Victory Monument by removing the interprovincial vans will go to trial in September, an officer in charge of the junta effort said Monday.
After decades providing transport throughout central Thailand, the more than 4,000 vans departing daily from Victory Monument have been given until Oct. 25 to clear out. A trial will be held for the last week in September during which free shuttles will take passengers from Victory Monument to the three official bus terminals located.
The Ministry of Transport said removing the vans will help solve traffic problems in the area, which slows to a crawl most days, and also be the first step toward better regulation of fares and safety on the ubiquitous white and silver vans.
The trial will run Sept. 21 to Sept. 28. Shuttles will be available to take travelers to the Northern, Eastern and Southern bus terminals located in the Mo Chit, Ekkamai and Borommaratchachonnani Road areas, where the privately operated vans will be told to relocate.
The junta has tried and failed before to end the roundabout's use as a transit hub. Shortly after seizing power in 2014, the military government tried to push the interprovincial vans out to a space under the Airport Rail Link Makkasan station.
Though the vans came back and prices didn't fall, the effort did succeed in regulating ticket booths to display uniform information and get drivers to wear uniforms.