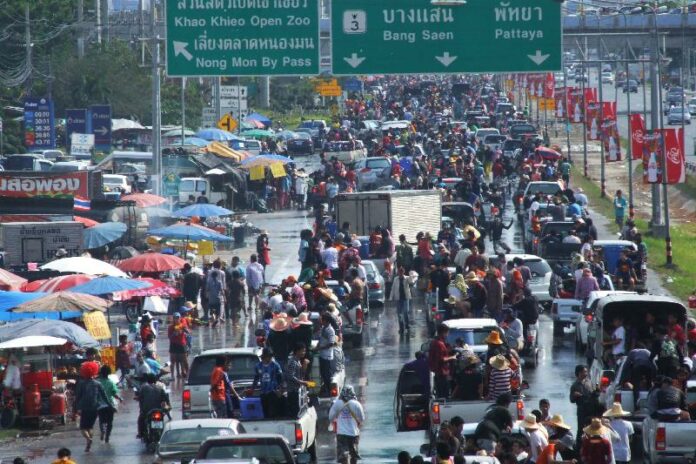 BANGKOK — Those who plan to travel through the provinces for the upcoming Thai New Year holidays should equip their vehicles with dashboard video cameras, a road safety advocate said Tuesday.
The advice was part of annual efforts by private and state players to reduce accidents during Songkran, one of the two bi-annual periods called the Seven Dangerous Days due to the higher than average number of road fatalities. The authorities also pledged to enforce traffic laws and set up sobriety checkpoints to cope with the holiday season, which falls in April.
"At present, only 10 percent of motorists have dashcams, if that increases above 50 percent, we believe that road accidents during Songkran this year will definitely decrease," said Taejing Siriphanich of the Don't Drive Drunk Foundation in a statement.
Taejing said dashcam footage helps law enforcement identify perpetrators in accidents for and prevent innocent motorists from being wrongly blamed.
The Songkran festival runs April 13 to April 15, but parts of Thailand celebrate for many more days. For a week, roads connecting Bangkok to the rest of the country are clogged with tourists and people headed home to spend the holidays with their families.
The government tracks fatalities and injuries during Songkran week every year. During last year's Seven Dangerous Days, 432 people died on the road
Reached for comment, Department of Land Transport director Sanit Promwong said he agreed with Taejing's proposal. He believes motorists will behave more responsibly if they feel they are being "watched" by dashcams on vehicles around them.
"Cameras are the public eyes. They help monitor the behavior of road users," Sanit said. "If someone wants to cut off another car, and if they're aware that the other car has a camera, they will behave."
While the department does not have an official policy of mounting cameras in public transport vehicles, they are required to have GPS tracking and driver ID systems.
On the same day, the government's Road Safety Directing Center unveiled pledges to reduce accidents this year. Measures to be implemented include more alcohol checkpoints, inspection of public transportation and warning signs at dangerous locations.
Local officials such as village heads and kamnans were also urged to lecture members of their communities who they believe have a habit of speeding or driving under the influence, Krissada said.
This year's Seven Dangerous Days fall April 11 to April 17.
Related stories: