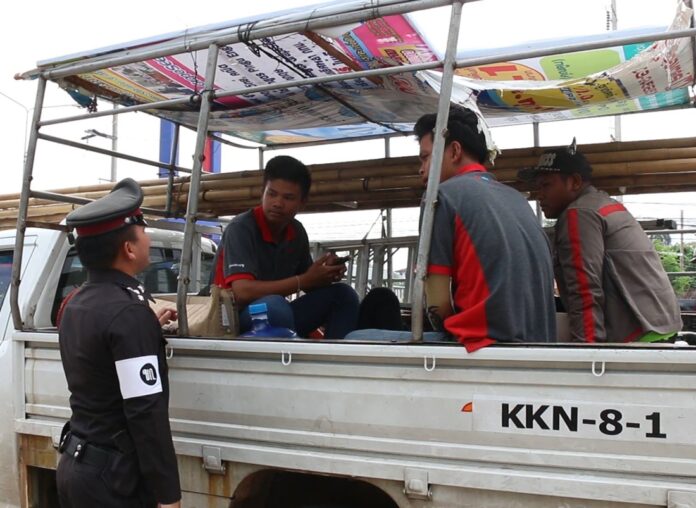 BANGKOK — At the heart of the military government's traffic regulation u-turn, which will see them enforcing a ban prohibiting travel on the beds of pickup trucks, was the outrage from poor and chiefly rural people who the measure will affect the most given the lack of viable alternatives.
The Wednesday u-turn is temporary, the government said, adding that the ban is in order to ensure safety and reduce road deaths. It said the rule would be deferred until the end of Songkran, which is now less than two weeks away.
Government spokesman Maj Gen. Sansern Kaewkamnerd said no more than six people will be allowed on pickup beds during this period.
Read: Starting Now, You Can't Ride in Back of a Truck (So Say the Police)
Facebook users continued to criticize the regulation prohibiting truck-bed riding – a law dating way back to 1979, despite the deferment. They said the ban, well-intended as it may be, failed to take into account the reality of poor people, particularly the rural poor, who rely of pickup trucks to transport friends and their extended family on the back of trucks on a daily basis.
"It's a bad joke. Enforcing a law that has no regard for social reality and culture," wrote Thanachart Thammachot, on Facebook Wednesday.
Facebook user Somchai Sae Jiw opined that the backlash was immediate and strong because it directly affects many people, unlike abstract concepts such as democracy, human rights and freedom.
Even those sympathetic toward the imposition of the ban urged the government to offer viable alternatives that won't be too taxing on the rural poor.
Facebook user Sorachai Pongpatcharatorntep wrote that he agrees riding on the pickup bed rails is dangerous but added that the socio-economic structure of society doesn't leave these people with much choice.
"Any law passed must be suitable to the context of Thai society," wrote Punpicha Taw Supa, another Facebook user. "If there existed a spider-web mass-transit system there would not be such a problem."
Not only Thais weighed in on the issue. Pattani-based academic Hara Shintaro wrote last night that unlike in rural Japan, where there exists a good public transport system and family sizes are smaller, pickup trucks are a rural way of life in Thailand.
"It's an important mode of transports in a society that still has extended families and a strong network of relatives," Tokyo-born Shintaro, who married a Thai-Malay Muslim, noted.
Shintaro acknowledged that transporting people on pickup bed rails poses a safety hazard, but called for time for rural people to adjust themselves and for the government to provide a reliable public transport system.
Not all were convinced. Twitter user @gupree tweeted today saying people who complained that they have 10 family members and may need to buy five two-seater pickup trucks should just buy a minivan instead.