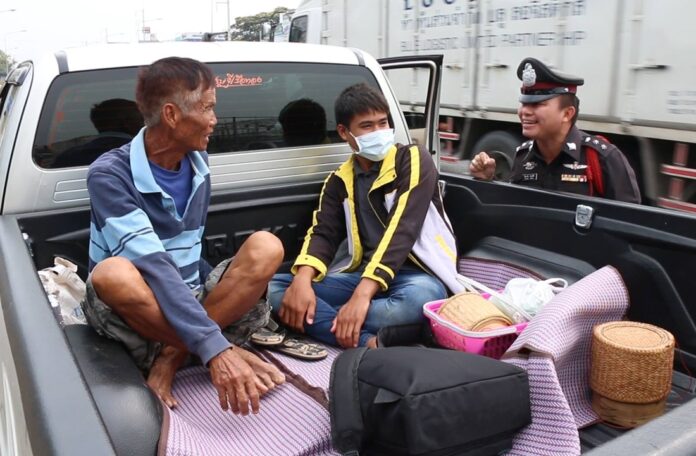 BANGKOK — Wednesday marked the first day two road safety measures came into effect – all passengers traveling in vehicles with seatbelts must wear them, and passengers will no longer be allowed to ride in the back of pickup trucks.
While the first measure, made law last week by a junta emergency order, was not a matter of controversy, the latter was met with confusion and incredulity, because riding in truck beds has been common practice for decades, despite being illegal for a long time.
The announcement came just a week before hundreds of thousands of commuters will hit the roads during Songkran, the Thai New Year holiday. Riding in the back of a pickup is an economical and convenient means of travel for large families, though officials said the habit contributes to many road fatalities.
Contrary to widespread misunderstanding that both measures were issued by the junta, the prohibition on truck-bed riding has been enshrined in law since 1979, only now the authorities are choosing to enforce it, according to the director of the Land Transport Department.
"The [enclosed bed] area has never been designated a passenger seat," Sanit Promwong said by telephone.
Reactions were swift on social media.
"If you want to change the law like this, then give new cars to the people, please," someone who likewise thought it was a new law wrote in response to an online news article. "I'm from outside Bangkok. When I go home, I have to bring all my relatives with me. If they can't ride along, the government should just give each of us a car, pleaseeeeeeee."
The idea that people would suddenly vanish from truck beds was an instant object of ridicule online.
In one viral video, a man puts his toddler in a box and places him as "cargo" in the pickup truck as a cheeky way to evade the laws. A famous monk also posted a photoshopped picture of himself sitting on the hood the truck.
Under Thai law, the beds of pickup trucks are reserved for cargo, not humans. Yet many Thais install camper shells – called cap – for use by passengers. Nearly everyone does it – from families going on holidays to police patrols and soldiers fighting insurgents in the Deep South.
A Bitter Pill
Sanit said things have to change because it's unsafe for passengers in the event of an accident, as there are no seatbelts in pickup truck beds.
"When there are accidents, there are many losses," Sanit said. "What can be done to improve safety, we should do. We must help each other and cooperate with the laws."
In last year's "Seven Dangerous Days," a week that covers Songkran's motorized exodus, pickup trucks were blamed for about 9 percent of all fatal accidents, coming in a distant second to motorcycles, which accounted for over 80 percent of all fatalities.
When accidents involving pickup trucks take place, they tend to take many lives. When a public van slammed onto the back of a pickup truck on Jan. 2, 10 of the 11 people traveling in the vehicle were killed. Two people died and nine wounded when a pickup truck full of young revellers overturned in Phetchabun last Songkran.
But while many accept the safety argument, they are also asking what alternatives exist if pickup trucks cannot be used during Songkran. Trains are usually fully booked during the holidays, interprovincial buses are notoriously unsafe, and few working class families can afford flying.
"Do you think upcountry people have public transport that goes directly to their homes, you dumbass?" Onlin New wrote in a thread. "You want me to step off a bus and walk the remaining 30 kilometers? They all drive pickup trucks where I live."
A police commander in charge of traffic regulations said there would be enough public transportation for this year's Songkran, and that it is time for the public to change its ways.
"This year we will focus on safety more than on having fun or convenience," Witthaya Prayongpan, assistant commissioner of the Royal Thai Police, said by telephone.
Serious, But Not That Serious
Pickup truck drivers caught with passengers sitting in the bed are liable for fines up to 2,000 baht for using their vehicles for an unregistered purpose. The drivers, not the passengers, are the ones who will have to pay, Lt. Gen. Witthaya said.
It is yet unclear how seriously the latest road safety measures will be enforced. Many previous police "crackdowns" – such as those on illegal parking, driving on sidewalks and littering – eventually fell quiet after several days of media coverage.
Reports on Wednesday from some provinces suggest that police will resort to giving verbal reprimands rather than fining violators. For instance, a traffic police officer in Chiang Mai was quoted saying his team will not hand out fines right away because many people still haven't heard the news.
Lt. Gen. Witthaya himself suggested that police can be lenient if they catch people riding on the back of pickup trucks during Songkran holidays.
"We can't enforce the laws 24 hours, seven days a week. We can only set up checkpoints and randomly check [vehicles]," Witthaya said. "If you are stopped by police, please don't argue with them. Please acknowledge your charges and ask for a reduction of the fine or for leniency. Officers exercise judgement on a case-by-case basis."
Related stories:
Lower Blood Alcohol Limits for Young Drivers Hailed by Road Safety Advocates
Junta Wields Absolute Power Again. This Time on Seat Belts.
Here's Why Fewer Will Die on Thai Roads if Vans Replaced
Motorists Urged to Get Dashcams for Songkran