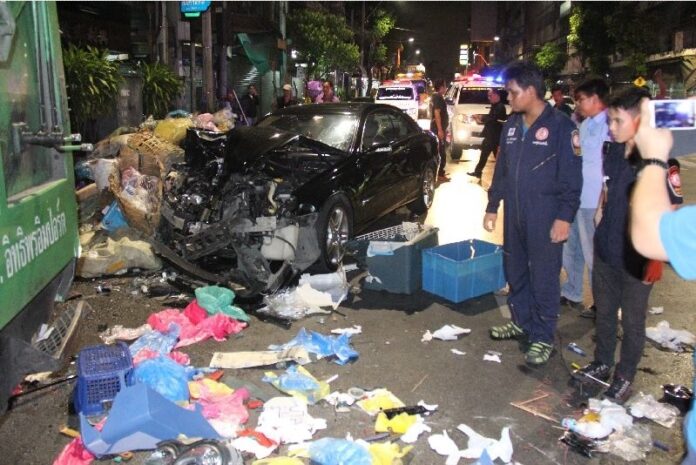 BANGKOK — Lowering the permitted blood alcohol limit in young drivers will help prevent accidents, a road safety organization said Wednesday of the cabinet's endorsement to changing the law.
The amendment approved at Tuesday's meeting of the interim cabinet will lower the permitted blood alcohol threshold for drivers under 20 from the current limit of 0.05 to 0.02.
A director of Don't Drive Drunk Foundation said the measure is reasonable because research shows people under 20 and new drivers are responsible for the majority of car accidents and DUI cases. Younger drivers tend to be inexperienced and more reckless in their driving, Taejing Siriphanich said.
"We want to decrease the risk for the group of people who are most at risk," Taejing said. "Usually, when these people don't consume alcohol, they are already at risk of accidents. If they consume it, they are even more at risk."
The legal alcohol limit for those over 20 will remain 0.05.
The amendment to the 1979 traffic law was approved by the cabinet on Tuesday, and slated to be reviewed by the Council of State and the Ministry of Interior Affairs before going into effect.
Taejing said he hoped the measure would be enacted before the so-called Seven Dangerous Days, a week covering the Thai New Year holidays in April during which hundreds of thousands of commuters travel on the interprovincial motorways.
About a third of deadly accidents during last year's Seven Dangerous Days were caused by drunk driving, according to government statistics.
Taejing said the 0.02 limit for younger drivers already factors in the fact that some medications can introduce alcohol into the bloodstream.
"Ideally, it should be 0.00, but they have to leave room for other factors," he said.
Related stories:
Monk Blames His DUI Charge On Pickle Juice