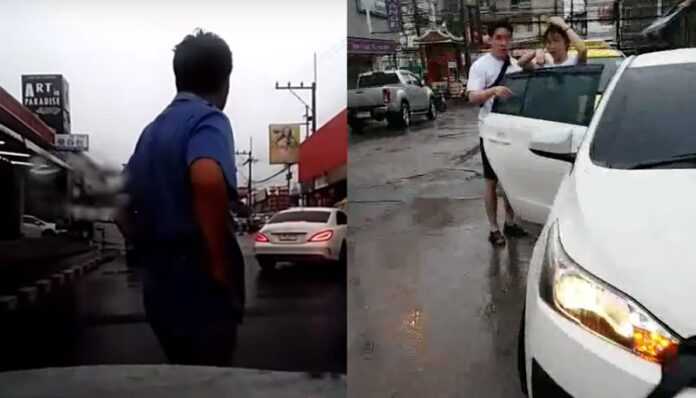 PATTAYA — An Uber driver filed charges of extortion Thursday against four taxi drivers who blocked his way and forced his passengers out of his car after using the app to hunt down drivers.
The four drivers allegedly followed the white Toyota driven by Surasak Khookam, 29, who was picking up foreign passengers Wednesday in Pattaya. Though the passengers already put their luggage inside the trunk, the drivers blocked the car and told them to wait while they called police.
"In Thailand cannot Uber, Police takes," a taxi driver is heard telling the foreign passengers in a video of the incident. "You wait here just moment."
Read: Pattaya Taxis Terrorize Woman They Mistake for Uber Driver
The four taxi drivers blocked the way in front of Surasak's car and told him to wait until police arrived. They also asked the passengers to show the phone screen with the Uber application running.
"I'm sorry. You're making a living illegally," a taxi driver said to Surasak.
https://www.youtube.com/watch?v=aPIdBKK5PBg
Surasak was fined 1,000 baht for misuse of a vehicle.
Surasak later decided to filed a charge of illegal detention against the four.
Both sides confronted each other Thursday when the four were brought in to hear the charges.
One of the taxi drivers, 42-year-old Krit Sangsuwan, said he knew Surasak was on his way to pick up a fare because they were using the Uber application to track its drivers by GPS. He complained that Pattaya taxi drivers have been negatively affected by the service.
Uber and other alternative transport services are considered illegal in Thailand, as the law only allows properly registered vehicles displaying yellow license plates to pick up passengers.
Competing videos, one filmed by a taxi driver and one by the Uber driver, went viral online, where they were met with harsh criticism of the Pattaya taxi drivers.
"Such good samaritans," wrote Facebook user Aran Wittayasithi Mtutd. "When you have free time, please film the moment when you refused to use the meter when you were called in the Pattaya area."
"If taxi drivers have the authority to track, check and detain like this, I support the Uber driver to get revenge," wrote user Ekachai Rodnapho. "Pretending to be a customer and get in a taxi with a camera. 100 out of 100 times, they never use the meter."
Related stories:
Pattaya Taxis Terrorize Woman They Mistake for Uber Driver