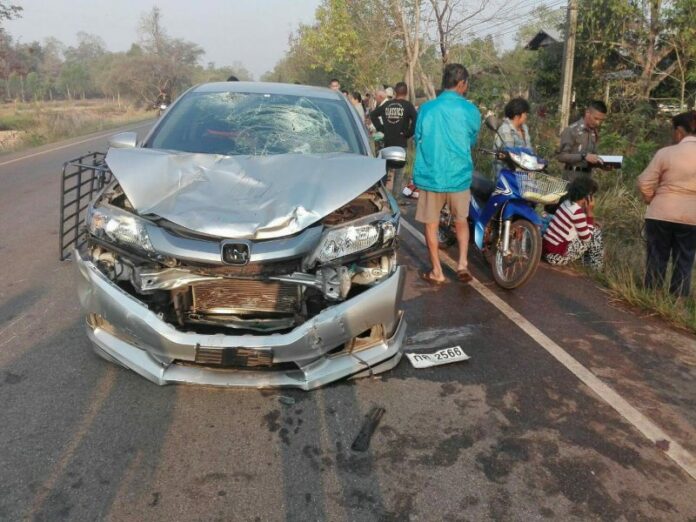 SAKON NAKHON — Officials on Tuesday lowered the speed limit of a northeastern province to 60kph in an effort to lower road accidents.
Transport officials in Sakon Nakhon city lowered the speed limit by 20kph in light of a growing number of road fatalities in the area.
"We decided to set this limit because along these roads, 15 people die per month from accidents. Fifteen! Fifteen people!" police Maj. Gen. Somkiat Kerdjongruk said Tuesday. "Mostly the accidents are from motorcycles crashing into cars."
Just yesterday, three people died and 54 were injured in road accidents in Sakon Nakhon according to statistics provided by private advocacy group Thai Road Accidents Victims Co.. In contrast, six people died yesterday in Nakhon Ratchasima province, which has over double the population, and only one died in Bangkok. Since Jan. 1, 73 people died in Sakon Nakhon alone, tying making it the 13th most dangerous province along with Phetchabun.
The new speed limit – which applies to all types of vehicles – was imposed on Nittayo Road, a main road that connects the province to Udon Thani, and Suk Kasem Road, which connects to Kalasin province.
On the portion of Nittayo Road from Baan That Na Weng Intersection to the City Gate, motorcycles are allowed to go 70kph.
Somkiat said he was confident the new speed limit would reduce accidents in the area.
Within Bangkok, Pattaya and city municipalities, the national speed limit is 80kph. Outside those areas, the limit is 90kph. An average of 66 people die daily on Thai roads, said Liviu Vedrasco of the World Health Organization in Thailand, citing a 2013 study.