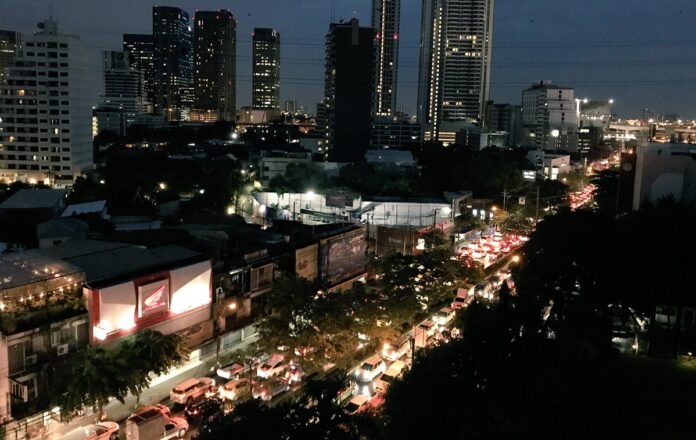 BANGKOK — Police on Wednesday said they're working to solve the congestion on Lat Phrao Road after public anger spilled onto social media.
The measures came a week after two lanes of the arterial road cutting across northern Bangkok were closed for construction of a new elevated rail line, sending the area's notorious traffic woes from bad to worse. Police said solutions include increasing the number of traffic enforcers, banning some vehicles during rush hours and moving bus stops to make way for traffic.
"I would like to inform the media and the public that we are dedicated to solving the problems," said Maj. Gen. Thirasak Suriwong, traffic police commander.
The crisis started Aug. 1 when both the innermost lanes on both sides of the road were closed to make way for construction of the Yellow Line, a monorail set to connect Lat Phrao Intersection with the eastern suburbs. The work is expected to be completed in 2021.
The road – a major route through Bangkok's residential areas – became immediately congested before matters got worse during rush hour Friday evening. The situation was so bad that it paralyzed many roads in northern Bangkok for hours.
The problem appears to have persisted since then. Frustrated commuters and motorists have taken to social media to share their grievances. In one viral post, a bus passenger reported that her bus driver simply gave up and went out to buy meatballs from a roadside vendor.
ฝนตกแล้วรถติดแค่ไหน.. ขนาดที่คนขับรถเมล์ลงมาซื้อลูกชิ้นทอดที่จอดติดอยู่ข้างหน้าได้ @js100radio pic.twitter.com/uF3m0z3ET1

— PIMm (@JustPIMNOK) August 7, 2018
In response to public complaints, Thirasak said police called a meeting Tuesday with the rail authorities, City Hall and transport officials to sort out the mess.
Preliminary measures include moving 26 bus stops identified as being too close to traffic choke points to more suitable locations. One private property will be asked to open its space to ease the flow of crowds at a major bus stop close to Imperial Ladprao mall, Thirasak said.
More officers from multiple agencies will take to the street to ensure traffic moves more smoothly, and vehicles with six wheels and larger will be banned during the morning and evening rush hours, according to the traffic police commander.
Construction workers will also be asked to use only plastic traffic barriers instead of immovable concrete types so that they can be moved around when needed, Thirasak added.
"เห็นหลังไวไว" ไปได้แต่ รถจยย.

ถ.ลาดพร้าว ขาออก ไปบางกะปิ ติดไปถึงทางขึ้นสะพานสวนสมเด็จย่า /เวลา 16.45น.

cr. Rojarin Matwungsang pic.twitter.com/O4Qhbm4klG

— สวพ.FM91 (@fm91trafficpro) August 7, 2018
สถานการณ์ จราจร ลาดพร้าว 3 ถึง 5แยกลาดพร้าว @js100radio 19.25 น. pic.twitter.com/8oDjynFFaw

— Tonyken (@tonyken) August 7, 2018