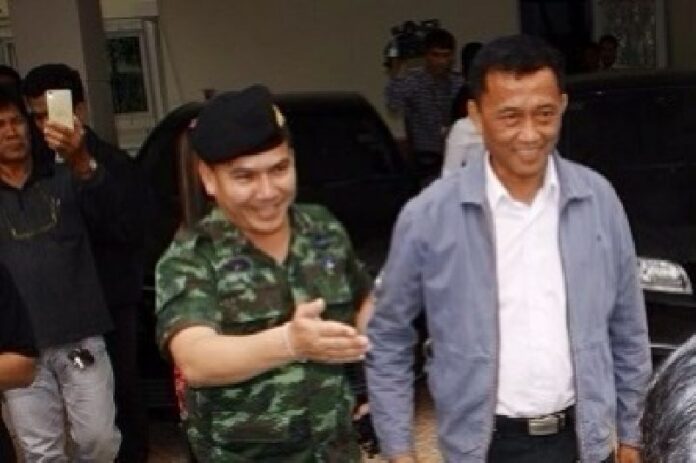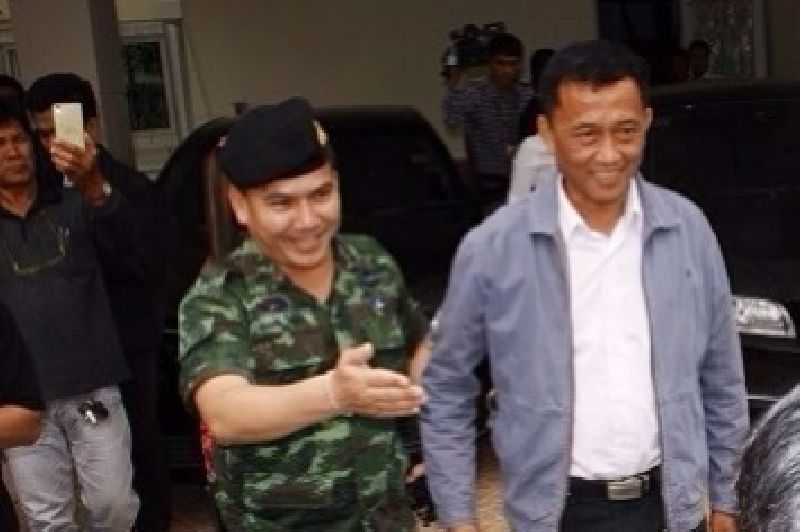 By Pravit Rojanaphruk
Senior Staff Writer
When the phone rang shortly after 9am on Wednesday it was a junta rep on the other end. He was polite as usual.
"Brother, the commanders think your trip should be deferred," the soft-spoken Lt. Col. Adisak Showichien informed me. It was about my scheduled trip to Helsinki to attend the World Press Freedom Day organized by UNESCO at the invitation of the Finnish foreign ministry.
Since being detained without charge in the aftermath of the coup, I was "asked" to sign a memorandum of understanding under duress that included having to seek "permission" from the military, more politely and formally known as the National Council for Peace and Order, or NCPO, in order to travel outside Thailand.
I did not sign anything forbidding me from criticizing the military dictatorship, however.
Perplexed for a second about the implicit message, I politely asked Adisak if that meant the NCPO would not permit me to fly to Finland in early May. Adisak said yes, sounding reluctant and very, very polite – as usual.
I knew it would be impolite to ask Adisak why, so I didn't bother. I just thanked him for informing me and finished the call.
Soon after I announced it on social media, The Associated Press wrote several paragraphs about my travel ban in an article about the new police like powers given to the military. Citing military government spokesman Maj. Gen. Sansern Kaewkamnerd as saying he did not know about it, but were it true, "it must be related to national security."
For the record, I am not a threat to national security – perhaps just a threat to the junta's deep sense of insecurity which, deep down, probably comes from knowing they are illegitimate. Thus squashing any meaningful dissent became one of their obsessions in returning happiness and "democracy" to the Thai people.
When Bangkok-based ABC News Australia correspondent Liam Cochrane followed on the story Thursday, he got more revealing quotes often obfuscated under the veneer of politeness.
Cochrane quoted NCPO spokesman Col. Piyapong Klinpan as saying:
"The NCPO has followed up on him and found that he still keeps posting [online] and attacking the work of the NCPO. He keeps violating the orders of the NCPO in many ways, so his travel is not approved."
Does this military regime expect me to kowtow and be a vassal to an illegitimate regime which came to power through a coup in 2014 and praise junta leader Gen. Prayuth Chan-ocha for doing things like banning political gatherings of more than four people? They can't be serious.
Be that as it may, things went down "politely," and I am not the only one who took notice. Last month, a visiting MP from a major European nation noted during a lunch meeting that he was surprised that a junta rep which he met was very polite and possessed a good command of English.
He said this was far removed from his expectations of a junta man.
It's this politeness and lack of outright physical brutality that enables people such as former junta-selected Prime Minister Anand Panyarachun to be able to claim, as he did recently in a keynote speech at the annual Foreign Correspondents' Club of Thailand dinner, that Westerners should not mistake Thai coup makers for those in the same business in Latin America and Africa because things are not "brutal" here.
Really?
No one's skull may have been knocked by the butt of an M16 rifle on the streets of Bangkok or upcountry, but detaining people incommunicado, banning political gatherings, freezing bank accounts of opponents and barring critics from traveling are indeed violent, even if executed "politely."
Politeness only masks repression to a limit. How polite is accusing a Chiang Mai woman of inciting rebellion by merely posting a photo with a red plastic water bucket signed by ousted and fugitive former premier Thaksin Shinawatra and his sister, former premier Yingluck Shinawatra? How polite is empowering soldiers to conduct raids without court order and detain suspects for up to seven days without charge? No politeness can cover up the growing repression or make it palatable.
Last week former Pheu Thai MP Worachai Hema was detained without charge for "attitude adjustment," a euphemism enabled by the media to obscure the reality of arbitrary detention. In a photo of him being taken away, Vorachai could easily have been mistaken for accepting a smiling soldier's invitation to a party and not on his way to a secret detention cell.
The perversion of politeness and smiles as tools of repression to make it appear more civil and palatable has been employed for nearly two years now, to the point where it's no longer polite to insist on being polite.
In Juntaland, politeness is a vessel of military repression to hide the depressing reality and blur the definition of repression. Its emptiness can only be matched by the junta's notion of "Thai democracy" and befits the situation where Prayuth's reasoning for not yielding to people's demands was because, unlike politicians, he was never elected.
Having said all this, I would still prefer having Adisak and other soldiers being polite, as I am always polite to them. (I told them long ago during my first detention that it's nothing personal: I just support freedom and democracy.)
Indeed, let us fight through military repression in the most polite way possible.
Follow Khaosod English on Facebook and Twitter for news, politics and more from Thailand. To reach Khaosod English about this article or another matter, please contact us by e-mail at [email protected].