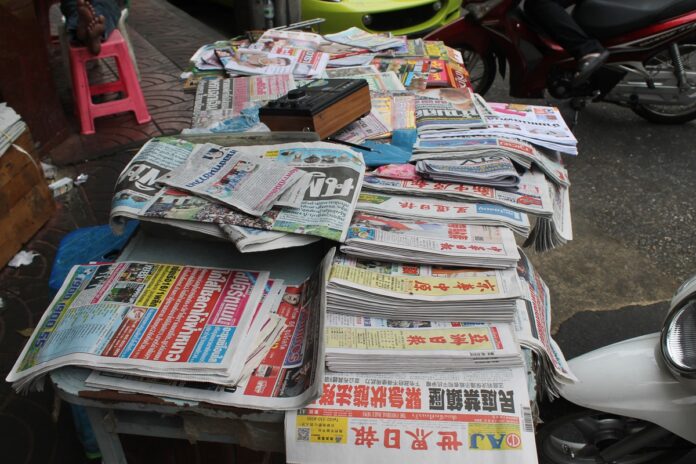 The withdrawal of an ultraconservative newspaper from the largest national media association last week was another chapter in the ongoing debate and struggle over the role of Thailand's mass media.
In a statement announcing its withdrawal from the National Press Council of Thailand, Naewna said the body had become "a tool of those who do not wish the country well."
Slightly raising the lid on that vague statement, the Bangkok Post quoted a Naewna source saying the paper was unhappy "with a recent move by the body and other media organisations that was deemed to protect biased journalism."
What Naewna considers biased journalism – editorial content critical of military rule – is already under assault by the junta
Pro-democracy news nonprofit Prachatai.com was raided earlier this month after one of its reporter was detained overnight and charged with violating the Referendum Act. Taweesak Kerdpoka had been arrested after he was found "embedded" with activists from the New Democracy Movement, as he was in their vehicle loaded with Vote No campaign materials while covering a story.
Then there's the shutdown of Redshirt channel Peace TV by the authorities.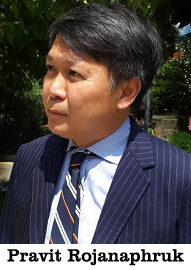 Make no mistake, Naewna itself is far from impartial. It's one of the few die-hard, pro-junta conservative outlets along with Thai Post. This shows the tension between what is regarded as acceptable, good and genuine media in Thailand.
Should the media act more like a mirror, reflecting what's going on, or a lantern, leading society toward a better state? This tension was raised by a well-known former dean of Thammasat University's School of Journalism, Boonrak Boonyakaetmala, two decades ago and is still unanswered.
In reality there should be no debate since the "mirror" role can be fulfilled through straight news reports and analysis while the "lantern" functions through commentaries and editorials. Society needs both functions from any competent media outlet, as the public should not just receive news and information but should be able to articulate by agreeing or disagreeing with issues raised by columnists and editorial writers.
Thailand being Thailand, there are people who think there's only one type of good press, with the rest posing a threat to the "correct understanding and views" of society. They believe those deserve no protection nor should be regarded as bona fide media at all. This is a very crude and narrow understanding that is condescending to the public, as it assumes people are so vulnerable they will fall prey and be confused by "incorrect" information and ways of thinking.
It's not just people in the media professions who exhibit this superiority complex. Junta leader Gen. Prayuth Chan-ocha, whose regime's vicious suppression of debate most recently imprisoned an elderly man handing out leaflets, said during his televised monologue last night that it's the politicians misleading people about the Aug. 7 charter plebiscite.
Such a patronizing view only retards our social progress.
The public is let down by a traditional mass media which censors any news or commentary about the monarchy that contains an iota of critical information, criticism or sometimes just anodyne information. Such a gatekeeping role comes partly from fear of breaching the draconian lese majeste law and partly out of a genuine belief by some holding same elitist notion the public may be "confused" or "misled," and therefore may lose its loyalty to the throne, particularly as the nation approaches its monarchical transitional period.
The biggest issue facing Thailand cannot be referred to without employing gauzy euphemism.
Even here at Khaosod English, we removed two such articles in the past eight months, the latest one being Thursday.
The media role of gatekeeper is not meant to be abused as it is in Thailand.
That responsibility of deeming what is fit for publication is crumbling fast, as people find ways around it through the proportionate rise and popularity of social media, particularly Facebook, Twitter and YouTube.
More and more, Thais are bypassing traditional media and learning about the issues withheld as biased or unfit to print through their own networks of social media and the new legions of online influencers. We are witnessing the build of a new information Big Bang, in a way not unlike when newspapers were born out of the Industrial Revolution in Europe and the need to advertise.
It also risks being more fractured, more partisan and less inclusive however. The repercussions are enormous, but each citizen can become their own gatekeeper on what is accurate, reasonable and believable.