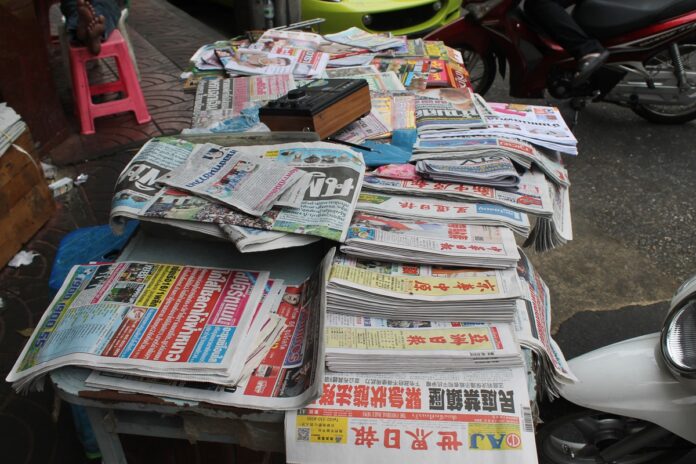 BANGKOK — A newspaper known for its staunch royalist stance announced Thursday it has resigned from a national media association for its failure to enforce ethics and impartiality.
In an online statement, the editorial board of Naewna said the National Press Council, comprised of editors from different print media organizations, turns a blind eye to media agencies that take political sides and disregards ethics, though it did not name any specific incidents.
"The newspapers of each [council] agency clearly choose sides, don't comply with ethical standards in news coverage [and] have been used as instruments of those who harbor ill will toward the nation," said the statement, adding that Naewna's resignation was effective immediately.
Someone answering the phone at Naewna twice said Thursday that none of the editors was available.
Chai Patakamin, the council's secretary-general, declined to comment.
"We are still discussing the matter," said Chai, who works on the editorial board of Daily News newspaper. "I do not have the full details with me, so I cannot make any comment at this time."
Naewna, which has been business for 36 years, often makes clear its support for the current military government and the protests against the former elected government which preceded it.
In its editorials and columns, the newspaper consistently calls for broader powers for the junta and tougher measures against those who insult the monarchy or challenge the military regime.
"There are 'ant armies' mobilizing villagers, using word of mouth, to distort and mislead the people to reject the constitution in the upcoming referendum. They may have been hired or motivated by money in their actions," read the latest Naewna editorial on the Aug. 7 referendum.
It was the second high-profile resignation to hit the National Press Council. In 2011, Matichon Group, the parent organization of Khaosod English, quit the federation in protest, saying the council failed to promote media freedom and impartiality.
Related stories:
Thaksin Sues Newspaper For Linking Him To Anti-Royal Reds
Watchdogs 'Too Late' to Stop Media Spellbound by Slow-Motion Suicide
Celebrity Dies, Paparazzi Frenzies, Public Rages Against Media Machine
Mainstream Media Trades in Worst LGBT Stereotypes, Review Finds