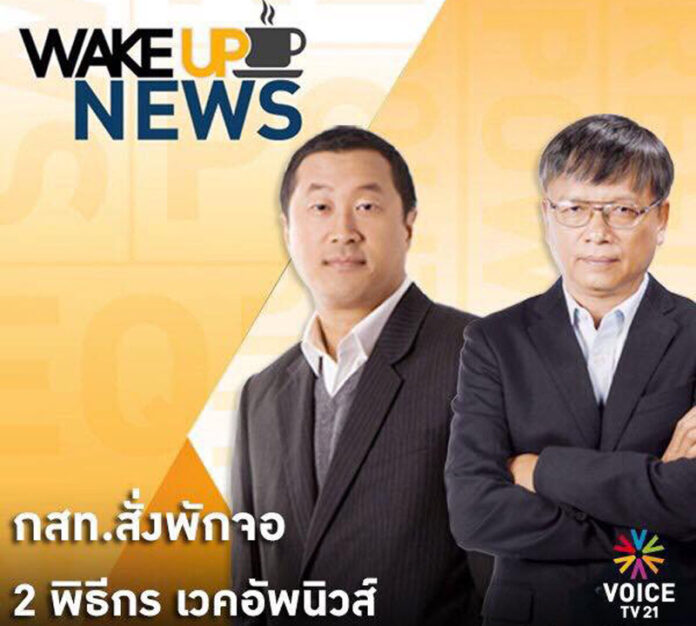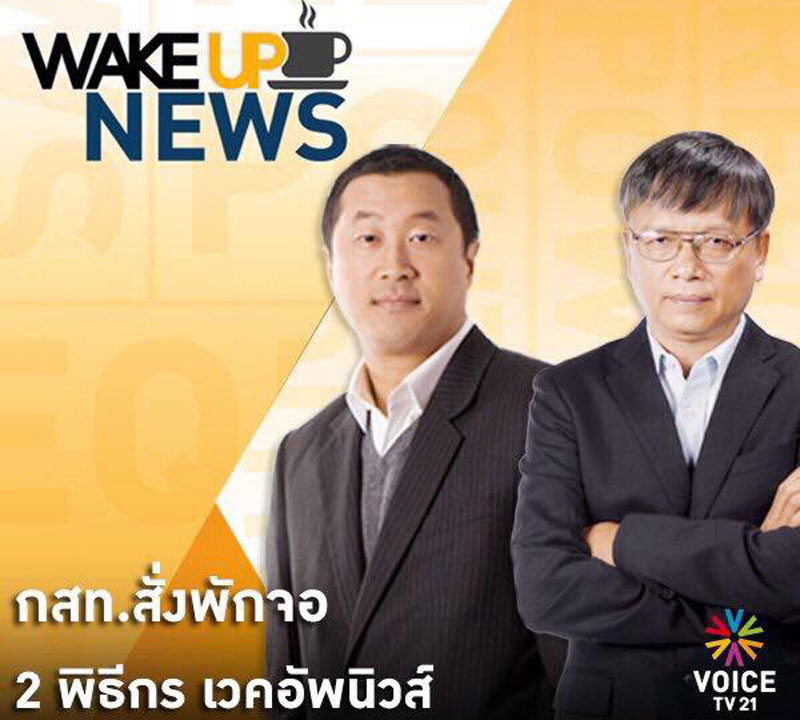 Public and foreign diplomats are routinely told by the military regime that Thai media enjoys freedom to criticize. That's only half true at best. The reality is that, two years after the 2014 coup, the selective pressures being applied on some media critical of the junta have just become more subtle and sophisticated, thus rather invisible.
Apparently, the junta doesn't need to muzzle the media, as at least one outlet has shown it's willing to strap it on for them.
Take what happened at Voice TV earlier this week. It began when Voice TV news director Prateep Kongsib announced Sunday on Twitter the station's decision to pull two well-known political news commentators off the air from some programs for 10 days in order "to survive under these special circumstances."
Prateep, who also tweeted the station "was given a condition that can't be refused," later told me the decision resulted from a meeting between representatives of Voice TV, telecoms regulators and the junta. (Was the junta rep there to ensure the regulator from the National Broadcasting and Telecommunications Commission, or NBTC, remained pro-active?)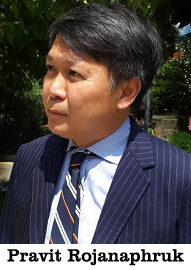 Last month, junta leader Gen. Prayuth Chan-ocha used his absolute power under Article 44 of the provisional charter to empower the commission to censor any media deemed a threat to national security and shield it from legal consequences for doing so. According to an outstanding junta order from 2014, security threats include anything construed as defaming the monarchy, "insincere" criticism of the junta, or anything that might sway public opinion against it.
After the news got out, there was criticism of the junta, but even more so criticism of the commission.
Commissioner Thawatchai Jittrapanun soon tweeted Wednesday that the commission did not order the suspension of any staff at Voice TV, adding that the law does not grant it the power to punish any particular media worker as the power rests with each media company.
"There're still misunderstanding regarding the resolution of the NBTC regarding Voice TV. The commission did not suspend any staff. Instead it was a proposal made by the TV station so the commission did not act further," Thawatchai tweeted.
I tweeted back and asked why would Voice TV submitted a letter to the commission Monday informing it of the disciplinary action if it had nothing whatsoever to do with the NBTC? There was no answer from Thawatchai. Another commissioner, Supinya Klangnarong, explained to me earlier by telephone that this was an offer made by the station in a desperate attempt to thwart the possibility of heavier punishment meted out by the commission.
Supinya said Voice TV had been warned several times in the past by the NBTC and heavier punishment could mean an order to permanently remove two popular political programs. This, she added, would have severe repercussions on the station's advertising revenues.
Although Voice TV is owned by Panthongtae Shinawatra, the only son of ousted and fugitive former premier Thaksin Shinawatra, it is also a corporate media outlet and turning a profit matters as much as scrutinizing the military regime, if not more.
Voice TV chose to engage in pre-emptive self-punishment in order to appease the NBTC, thus the junta, in a bid to avoid greater calamity. On the surface, it lends the appearance that the junta and the NBTC had nothing to do with the move and thus should not be held responsible for what happened.
Supinya and Prateep's accounts suggested a more subtle and sophisticated model of self-censorship at work, however. Supinya said that basically any criticism against the junta on television could be construed as violating the MoU reached with the junta/NBTC. Prateep meanwhile told me the two staff members have been accused of harboring a "negative attitude" toward the junta and its military government.
Does this mean it's now unacceptable to have a negative attitude toward the coup makers who illegitimately seized power?
In this new model of pre-emptive self-censorship, it's the media organization which "voluntarily" takes the initiative to censor itself by punishing its own staff to avoid the appearance of another infringement on press freedom by the junta or broadcast commission.
No statement was issued by any of the media associations condemning this violation of press freedom.
The two suspended staff members also feel compel to speak as little about it as possible, as they do not want to be accused by colleagues of jeopardizing the future of the TV station itself.
Nattakorn Devakula, who along with Atukkit Sawangsuk was suspended 10 days, was even sympathetic to those who suspended him. He told me via Facebook message: "I would rather stay quiet on it. Trying to cooperate with [the commission] to prevent further escalation of the conflicts. But to sum it short, they are unhappy with commentary on political/divisive issues of most kinds."
A female Voice TV staff who was not suspended and asked not to be named due to the sensitivity of the issue referred to the act as "self-punishment" instead of blaming the junta or the NBTC for curbing press freedom. The issue is thus framed as a matter of internal regulation than external threat to press freedom, as illustrated by the stance taken by NBTC commissioner Thawatchai. It shifts the language from "rights" to that of "regulation."
It also pits staff against management, further diverting attention and possible repercussion from the junta and the commission. No wonder Nattakorn doesn't denounce his management, as staff could accuse the two of jeopardizing the station's survival if they didn't comply.
This is the latest in a long history of threats against Thai media. Under Thaksin Shinawatra, one outlet highly critical of his government, Matichon Group, which owns Khaosod and Khaosod English, was pressured to back off via threats of an attempted corporate takeover by a Shinawatra proxy company back in 2005. There was no proof beyond a reasonable doubt the company which tried to take over Matichon was doing so on Thaksin's behalf as alleged. Under Thaksin as it is now, the awarding of lucrative state-agency ads and commercials to friendly media firms have become a common practice.
The junta, aka National Council for Peace and Order or NCPO, has evolved from the first days after the coup when it use naked force to muzzle opposition media by sending troops "guard" various TV stations thus ensuring self-censorship, ordering some shut down, and detaining journalists without charge for "attitude adjustment." It now implicitly "enabled" Voice TV to punish its own staff for doing a competent job at holding the regime accountable.
I asked Prateep if it would be difficult for Voice TV to survive if it doesn't soften its content and he replied, "That's the signal they are sending." Given the situation, news organizations more committed to maximizing profits instead of holding the powers that be accountable will eventually relent and tell its staff to go easy on the junta. Such processes lead to internalized censorship where a line would be drawn as to what is permissible and what is not without any knowledge of the public.
Internalizing self-censorship is nothing new for Thailand, where media have routinely self-censored themselves for decades (and still do so) on any news which might be construed of as mildly critical of the monarchy – and even some that are not – for fear of violating the draconian lese majeste law.
We must give credit to the junta and the NBTC for the new paradigm of voluntary, preemptive self-punishment, however.