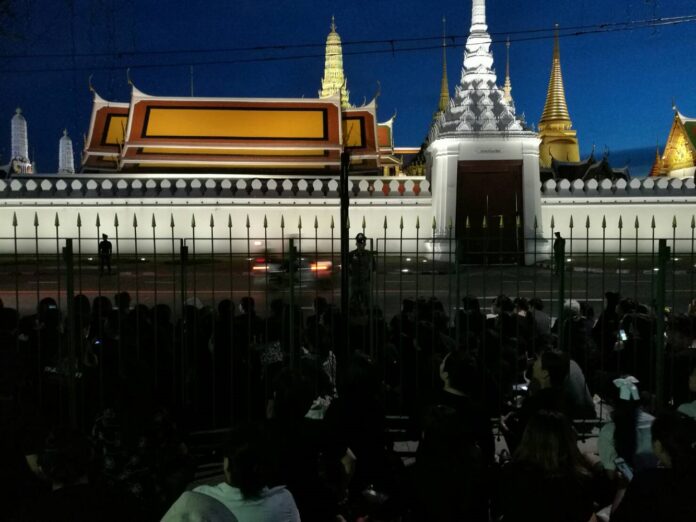 In grief, people can rise above tragedy and become better or fall to the depths of their base emotions.
Thailand has seen both repeated during the nine days since the death of the late King, His Majesty King Bhumibol Adulyadej, at 88.
Anyone visiting the area around the Grand Palace, the epicenter of grief and mourning, could not fail to be touched by the many volunteers and do-gooders. Under a hot sun during the week, high school and university students pooled what little money they had or could raise to buy sweets, black ribbons and even paracetamol to hand out to mourners who refused to be far from the King's remains.
Just outside my Bangkok office, a motorcycle cab told me he and his colleagues would set up a free ride service for those wanting to commute to and from the Sanam Luang. Although he won't ask passengers to pay him, the low-earning man said he would welcome it if they did.
Read: Altruism, Youth Dominate at Grand Palace as Nation Mourns
Many of whom I spoke to vowed to become better people, even if just a little, in honor of the late King. Their reverence to the late King was almost god-like. When I visited the area outside the palace Thursday and Friday, the atmosphere was generally calm and orderly. Gone was the massive outpouring of emotion heard  the first day or two. The crowds there seemed to have accepted the passing of the King as another stage in the Buddhism's cycle of birth, old age, illness and death. One woman holding a poster of the late King against the backdrop of the Grand Palace could even smile for a photo taken by her friend.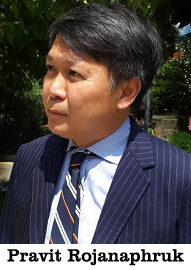 Away from there are some who dwell in anger and negativity. Instead of doing good deeds or striving to be better people, they have focused on suppressing, physically attacking or threatening to kill anyone who disturbs their strongly held belief that all Thais must love and revere the late King as they claim to.
Mobs have surrounded homes in Phuket, Phang Nga and Koh Samui demanding people they believed to have defamed the King come out and be punished. In Bangkok earlier this week, a middle-aged woman on a bus, later found to be mentally ill, was harassed off a bus and slapped violently for her alleged insults to the King. In Chonburi province, southeast of Bangkok, a mob filmed a factory worker as he was beaten and forced to prostrate in front of the King's portrait for what the vigilante crowd regarded as an insult on Facebook.
Then on Wednesday, I reported about a man in Samut Sakhon province who filmed himself driving around with two handguns and a portrait of the late King, vowing to search out and kill anyone defaming the late King.
I watched this 12-minute video repeatedly and truly wanted to understand the man, Suchaet Muangsamut.
"Why don't you love him, love the royal father? What the fuck is wrong with you people?" he ranted, swinging between rage and bawling.
It appears such ultra-royalists as Suchaet, like religious fundamentalists, can't accept or tolerate an alternate, competing reality. They are brought up to believe wholeheartedly that all Thais must naturally love and revere the late King. Suchaet admitted earlier in the video that he was very upset about Thais who posted comments attacking the late King on Facebook.
Suchaet was eventually found and arrested by police Friday but won't be charged for making the threats. Police told me he might face weapons-related charges if guns were not legally registered to him. In a photo I obtained from someone over Facebook, Suchaet was photographed sitting in the police station with the two guns and documents. He wore a black T-shirt with the Thai No. 9 in reference to late King's title of Rama IX. The name Rama comes from the seventh incarnation of Lord Vishnu, who is revered in Hinduism as part of a holy trinity and the guardian of men.
Interestingly enough, Friday on Channel 3, Sumet Tantivejkul, one of the most prominent administrators of the king's numerous royal projects, said the late King was like a "prophet" whose teachings, like Buddhism and other religions, would live on for Thais to adhere for "thousands of years."
There are some not disturbed by ultra-royalist threats to kill but the fact the news is being reported and spread in English to the wider world.
Suthin Wannabovorn, a Yellowshirt ultra-royalist and retired journalist, posted on his Facebook account urging the junta to do something about Khaosod English for reporting the news about Suchaet.
"Let me stress that the negative news that Westerners are writing about [Thailand] stems from the [the coverage] of [Khaosod English]," he wrote Thursday on Facebook. "If you do not want the reputation of the country damaged further, something needs to be done. Please listen again, related officers must do something." The post had been shared 109 times and liked 499 times as of Saturday afternoon, with one comment calling for a mob to descend on the offices of Khaosod English.
People have the right to love and revere the late King as if he is a prophet or god-like. The problem is that some ultra-royalists are behaving like religious fundamentalists, full of intolerance. Thais can either focus of doing good deeds and converting others through good example, or force and threaten non-believers into fear and submission, or even vow to murder them, in the name of their love for the king.