BANGKOK —  In the largest public gathering in recent history, a crowd estimated in the hundreds of thousands flooded the field in front of the Grand Palace today to sing the royal anthem in honor of the late King Bhumibol.
"We, servants of His Majesty the King, prostrate our hearts and heads, to pay respect to the ruler, whose merits are boundless," the crowds at Sanam Luang sang the verse they knew so well as they faced toward the Grand Palace, where the late monarch is lying in state for a year of funerary rites.
The mass singing was organized by the Siam Philharmonic company and filmed for future uses in cinemas and theatres, where a music video of the anthem is played before performances. The authorities lent massive logistical support to the project, closing down scores of roads and shuttling people from major intersections to Sanam Luang since Saturday morning.
The event drew mourners from all across the country, coming to offer their singing in homage to King Bhumibol who died on Oct. 13 at 88. He ruled the country for 70 years; most people have known no other king.
Saowapha Petchkong, 53, said she left her hometown of Prachinburi with her son before dawn and arrived at the field at around 5am. She said participating in the event helps her deal with her sorrow.
"A relative showed me messages on Line that the king passed away. I was so shocked. I cried, and I've been crying since," Saowapha said. "I cry everytime I read newspapers about his death … so I decided to come here."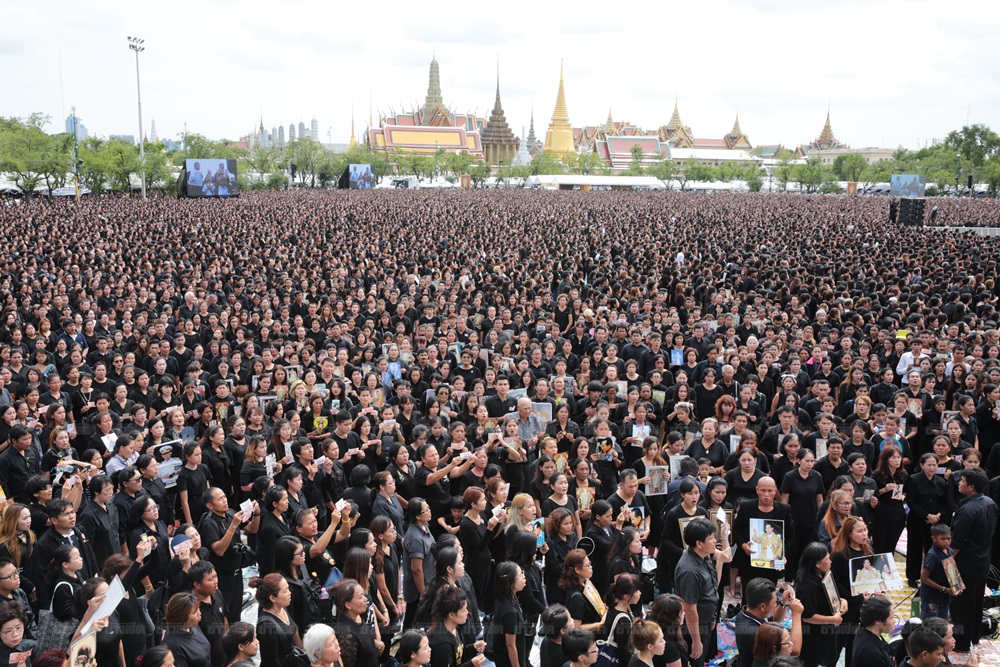 Saowapha said she also has a personal attachment with King Bhumibol because she had a glimpse of the monarch while she once joined a crowd of well-wishers at Siriraj Hospital, where he spent much of the past seven years.
Apinya Uthorn, 38, held up a portrait of the king along with her husband and daughter as she sang the royal anthem at Sanam Luang. The family of three from Chonburi province had been waiting there since 8am.
"I'm here because it's a once in a lifetime event," Apinya said.
Not everyone was there just to join in the mass singing. Many were there as volunteers to hand out free food and water, collect garbage and assist mourners who fainted under the intense heat.
"I decided to come here because I saw on the news that there were many people, and they must be lacking staff," said Watcharin Yimfueng, a 29-year-old graphic designer who lives in Bangkok. He and a friend were giving away candy and water in the morning, and when the foodstuff ran out they switched to collecting trash.
The project was a collaboration between filmmaker Chatrichalerm Yukol and composer Somtow Sucharitkul. The recording ran from 1pm to 5pm and was to repeat at 10pm.
Police said Friday they estimated that at least 200,000 people would gather in Sanam Luang and its vicinity throughout Saturday. No official count was available Saturday, but the crowds spilled out from the vast field onto the roads and avenues around it.
Large crowds are expected around Sanam Luang in coming weeks, especially beginning Friday after the royal household bureau allows mourners to pay respect inside the palace hall where the body of King Bhumibol is kept. Many mourners said they would come back for the opportunity.