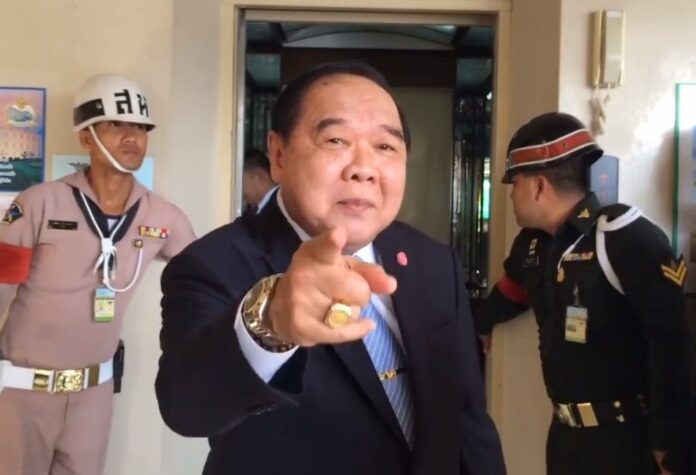 Can you eat a cake and keep it as well? Can Thai army generals stage a coup and deny it was a coup? Can a military dictatorship passes itself as a democracy?
Impossible as the last may sound, Thailand's junta is trying to achieve it still, nearly three and a half years after the May 2014 coup. That they would want others to believe there was no coup and they are not dictators is perplexing if not enigmatic.

A week ago on Sept. 8, deputy junta leader Gen. Prawit Wongsuwan detailed some instructions which were quoted by ubiquitous military-beat journalist Wassana Nanuam.
Gen. Prawit embarked on mission impossible when he instructed a batch of 27 newly appointed assistant military attaches to be posted abroad at various Thai embassies.
The first notable instruction was for them to tell the world that Thailand today is not a dictatorship but a "democracy without elections."
I'm not sure how many foreigners would be convinced by such a distinction but I'm certain it will make a good cocktail opening conversion and even generate a few giggles if not laughter.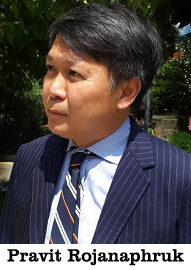 That wasn't the end of Prawit's instruction. According to Wassana, the deputy junta leader instructed the officers to also insist that the junta, known formally as the National Council for Peace and Order, is no dictatorship because it has never killed anyone, hurt anyone and adheres to democracy.
I must confess that I have lost count on how many Thais have been detained without charge since the coup by the junta, myself included, on top of two sedition charges lodged by cyber police against me for criticizing the junta on Facebook. I have lost count of the number of government officials transferred by junta leader Gen. Prayuth Chan-ocha's absolute power under Article 44 of the now-defunct interim constitution.
Oh, and how Prawit's boss, Prayuth, boasted recently that he doesn't have to take any responsibility for the things he does. Talk about power without accountability.
Wassana herself even remarked in one of two Facebook posts she wrote about the instructions: "That's gonna be tough!! How will they explain? …"
But it wasn't the end of the instructions. Arguably the most difficult instruction must have sent the listeners into the realm of incomprehension. Prawit, who's also not just deputy prime minister but defense minister, told the officers to tell the world that what took place on May 22, 2014 wasn't in fact a coup d'etat.
"We didn't stage a coup. It was just the use of power in administering the country through an act of coup only," in case any officers found the above instructions incoherent, or even illogical, they should not take the risk of offending their superior, for deputy junta leader Prawit ended this specific instruction by stating: "You must understand it this way."
A dictatorships that's a democracy? A coup that wasn't staged? This is hardcore Neo-Orwellian stuff we're talking about.
Having seen 570 Japanese businessmen in a delegation led by Japanese Minister of Economy, Trade and Industry Hiroshige Seko greeting Prayuth in Bangkok and treating this military regime as totally legit earlier this week, having read about Prawit's visits to London as guest of the Defence Ministry of the United Kingdom this week and counting on the days until junta leader Prayuth himself graces the White House lawn on an official visit to see US President Trump, one wonders why they're so hung up about denying what they are.
Perhaps it's guilt, something lurking in the subconscious. When you steal, you know deep down you're a thief, no matter what you may try to do afterward, you cannot lie to yourself. You can only lie to others, and in some cases, order others to lie for you.