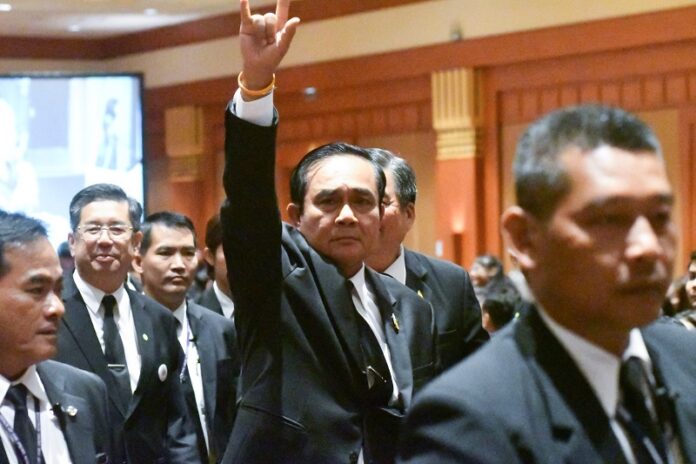 BANGKOK — Junta leader and Prime Minister Prayuth Chan-ocha said Tuesday he cannot be held accountable for damages caused by actions he takes using his absolute power.
Asked if he should be responsible for the billions of baht it may cost the state to settle with an Australian mining concern he shut down by fiat last year – while his elected predecessor was held criminally and financially liable for the losses of a graft-tainted subsidy program – Prayuth said he had no such responsibility.
"Talking in terms of using the Article 44 in this country, I don't have to be held accountable at all. I can do whatever," Prayuth said Tuesday. "If talking in terms of arbitration law or international law, then we will have to fight the case…But when I use the Article 44, I don't have to fear anything, because it protects me."
Read: Critics Say Prayuth Should Compensate Aussie Mine He Shut Down
His comment comes as many prominent and casual political commentators from across the divide have suggested he should be held accountable for his May 2016 decision to abruptly stop gold mining nationwide.
"What makes me heartsick is the government will have to pay the fine (at stupid cost) for using Article 44 to Australia," Yellowshirt activist Veera Somkwamkid wrote Sunday.
"If the junta loses power, the status of Article 44 might be changed," wrote junta opponent and activist Sombat Boonngamanong. "Will Prayuth's assets be seized?"
Last week, former Prime Minister Yingluck Shinawatra became a fugitive for not showing up to hear the verdict in her malfeasance trial. Her bank accounts had been frozen and she was ordered to pay 35.7 billion baht to the state for losses incurred by her rice-pledging program. She faces a sentence of 10 years in prison if convicted when the postponed verdict is read Sept. 27.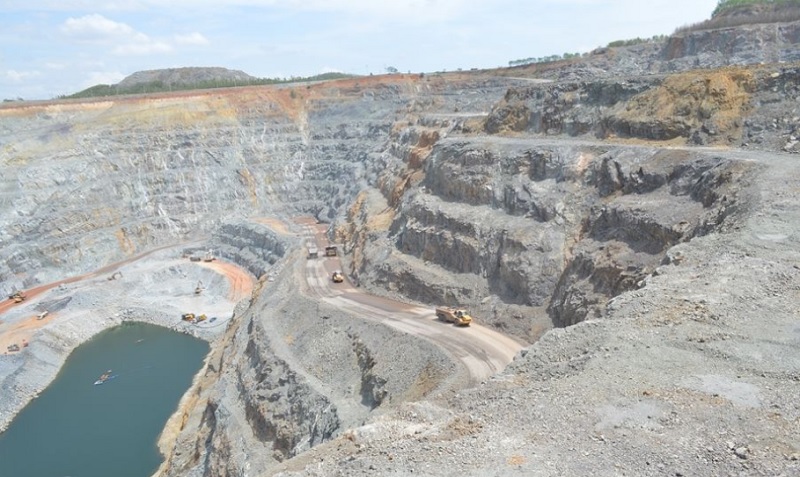 An Australian mining company sustained heavy losses by Prayuth's order, and a financial settlement in the billions of baht has been rumored.
In his May 2016 order, Prayuth said operations such as the Chatree mine operated by Akara Resources Co. must halt by the end of the year. Akara had become a public pariah due to reports of severe health and environmental damages blamed on its mines in three provinces.
Prayuth issued his order under his extralegal power under Article 44 of the junta-written 2014 interim constitution and kept in place in the new constitution adopted by referendum one year ago.
Nearly a year after its mines were shut down, Akara parent company Kingsgate Consolidated Ltd. revealed in April it would seek "a range of remedies including compensation" from the Thai Government because it violated the Australia–Thailand Free Trade Agreement, or TAFTA.
In its public statement, Kingsgate also said TAFTA provided guarantees that, as an Australian investor in Thailand, the company has the right to take disputes into arbitration before an international tribunal.
Media reports claimed that compensation could run up to 30 billion baht, though Kingsgate said it has never identified an amount.
Both the Thai government and the mining company said that negotiations were still ongoing as of Monday.
Denying his liability, Prayuth also said it was unfair to compare what he did to Yingluck's rice subsidy because her case involved corruption, while his order was made at the request of people affected by the mine. He said he gained no benefit from the shutdown.
"This government prioritizes the people more (than the previous government). As in many other cases, gains or losses are another story," he said. "But if we did not make it clear, there would continue to be a protest," Prayuth said, referring to protests staged against Akara and its mines. "But when there is a problem after, you tell the government to take responsibility. It's a different story from the rice-pledging. That was corruption. You have to be able to distinguish."
Related stories:
Critics Say Prayuth Should Compensate Aussie Mine He Shut Down
Junta Orders All Gold Mines Shut Down