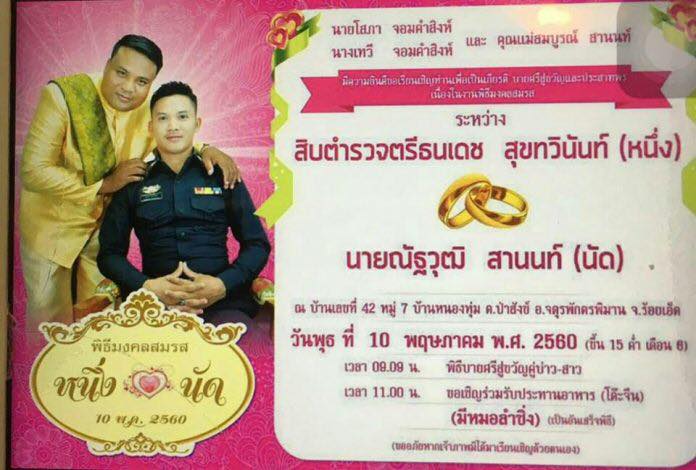 AYUTTHAYA — A disciplinary inquiry has cleared a policeman in Ayutthaya province of wrongdoing for the invitations he sent for his same-sex wedding.
Three months after he was placed under investigation following his marriage, Lance Cpl. Thanadet Sukthawinand said Wednesday that he had been cleared without further repercussion.
In May, police said they were investigating whether Thanadet's marriage violated any police regulations.
They did not identify the possible infraction, but the event had drawn attention on social media because Thanadet wore his uniform in photos included with their wedding invitations.
A senior police commander said they wanted to determine whether Thanadet was already married when he tied the knot with his boyfriend. Police officers often dress in their uniforms for such announcements.
Reached for comment Wednesday, Thanadet's supervisor declined to speak about the investigation.
"I cannot talk about it," Col. Samart Kaewmanee, head of Wang Noi police, said.
But Thanadet said the inquiry was concluded.
"Nothing came of it," the lance corporal said, adding he's still on the force.
Same-sex marriage is not recognized under the law, but it is also not illegal and same-sex weddings are commonplace.
In 2015, a policewoman openly married her girlfriend without repercussion.
Read more:
LGBT Group Slams Dean for Threatening to 'Check' Trans Student's Genitals
Mainstream Media Trades in Worst LGBT Stereotypes, Review Finds
Thammasat Cites Risqué Lipstick for Rejecting Transgender Prof