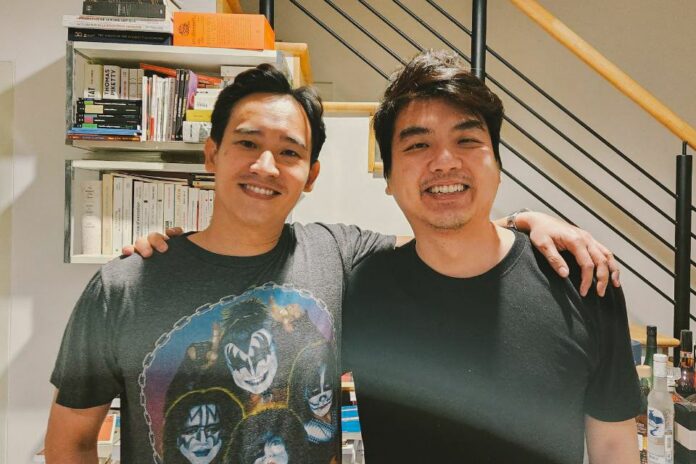 As the general election draws near, politicians are increasingly anxious. The Move Forward Party is no exception as became apparent by the latest row between party leader Pita Limjaroenrat and Pitabutr Saengkanokkul, secretary general of the Progressive Movement.
Although by Wednesday night, photos spread showing the two 'reconciling,' their very public spats on social media made it apparent the two do not see eye to eye.
Piyabutr wants to see the party become bolder in campaigning to ensure it can compete with the main opposition Pheu Thai Party, which is calling for voters to give them a landslide mandate. He also wants to see the party taking a stronger stance on the controversial lese majeste law. The party's current stance is it will push for a reform of the anachronistic law but would not be calling for an outright abolition of the law.
Piyabutr also accused Pita of free riding on other party members who work harder while waiting to claim credits. Pita's response on Wednesday was to call Piyabutr "unprofessional," adding that as the party needs to be able to concentrate of the upcoming general election, which is just a few months from now, Piyabutr seems to be doing all he can to sabotage the party by penning a series of criticisms through his social media account.
It seems Piyabutr feels frustrated that Pita was not listening to his criticisms and advice. He feels he is the senior and Pita should listen and heed his advice, given that Piyabutr was secretary general of the now disbanded Future Forward Party, which morphed into Move Forward when the former was dissolved by a Constitutional Court ruling on Feb. 21, 2020 due to the party's procurement of illegal loan from then party leader Thanathorn Juangroongruangkit.
Put simply, if the Future Forward Party was not dissolved in 2020, it could easily take a decade or more for a rookie and young politician like Pita to become party leader.
On the other hand, the past three years saw Pita succeed in steering Move Forward Party forward and ensure it continues to be a medium-size political party that's hugely popular among young urban voters. Sources say Pita has his own clique and doe not really see Piyabutr as his mentor.
We can debate as to whether the party should be more progressive on its stance on the lese majeste law or not but what is undeniable is the party's failure to handle conflicting views in a constructive manner.
Both tried to character assassinate one another. Pita wrote that Piyabutr was unprofessional and is a burden to the party, while Piyabutr suggests Pita is basically not what he wants the public to think he is and vowed to unmask Pita publicly through his social media account.
Instead of debating about the technical and ideological issues related to the lese majeste law or election strategy, they both end up trying to undermine each other's reputation publicly.
The expectation that Move Forward Party, and its wider entity which includes the Progressive Movement, will truly usher a new form of politics must be lowered. When it comes to handling different views and criticisms, the party has proven that it is not that different to many other political parties. Pita in fact cited Thanathorn, who along with Piyabutr, was co-founder of Future Forward Party, that any row should be kept internal.
I beg to differ; the party needs to be more transparent and able to handle differing opinions and criticisms both from within and without constructively. The party that vows to introduce new politics to Thailand must not be treated like a private corporation where there is little transparency and participation from ordinary consumers or members.
Things like why the party stopped short of calling for the abolition of the lese majeste law and how the decision was made are issues that the public deserve to know.
If anything, the row showed us that a truly progressive political party needs to be more open and constructive to internal criticisms, participatory and transparent.