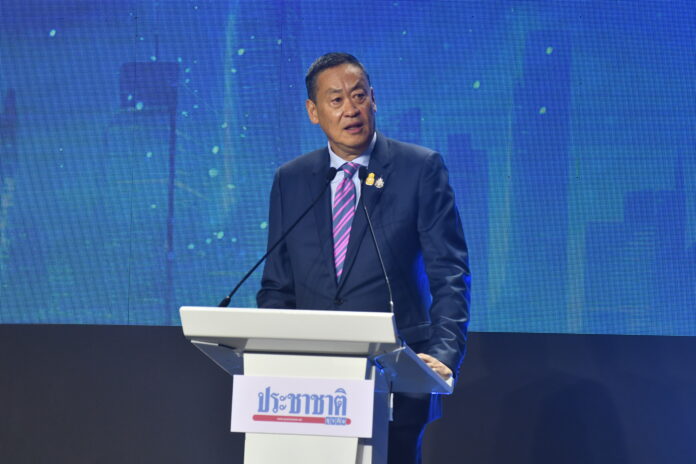 Prime Minister Srettha Thavisin this week rightly highlighted the need to think about the poor and underprivileged people. First, it was announced on Thursday that the-real estate-billionaire-turned-PM has decided not to accept his monthly salary and donate them to different charities instead. It was a good gesture and the first of his 125,590-baht monthly salary went to the Foundation for Children, which assists needy school children.
On Friday, the PM, while giving a keynote speech at a symposium organized by Prachachart, a sister daily of Khaosod English, warned well-heeled attendees to be careful not to flaunt their wealth on social as it would make ordinary and poor people feel even more inadequate about their lot in life.
"I believe everyone here, me included, is responsible too. But it's not too late. Let us heal the society by our actions," the PM said.
Yes, we need more actions and awareness to lessen the wealth and opportunities gaps, and no matter how well intended Srettha may be, he alone cannot make a real difference.
Take a walk at around 9pm at night along both sides of the footpaths along Ratchadamnoen Avenue near Khao San Road and see it for yourself. That is where the largest gathering of homeless people in Bangkok congregates despite the City Hall's repeated attempts to dissuade them from sitting and sleeping there.
This is partly due to the fact that various groups of Samaritans have decided to go there daily to give food and some basic necessities to them, while some of the buildings, which are owned by the Crown Property Bureau, are simply empty.
Go to Klong Toey slum and see that even some who have a roof over their heads live in a squalid condition. They may live just a few minutes' drive away from those posh condominiums along Sukhumvit 24, but they have little in common and the occupants of those luxury condominiums drive fancy cars that perhaps the former could only dream of.
An individual, no matter who and no matter how altruistic, can only engage so much in philanthropic activities to lessen the income and opportunity gaps. Yes, be generous whenever you can – that is the way to go but we need more than that.
At another level, we also need the government and non-government organizations to look at the big picture and think more strategically.
How about increasing inheritance tax as well as taxes of one's second, if not third home, and automatically deduct a few percent of it into a fund that will assist the needy and marginalized?
If Srettha can succeed in doing this, it will be much more impactful and sustainable than him donating his PM salary for the next four years of his term. Here the government can also encourage the affluent to do something similar, set aside 5 percent of your inheritance and donate them to charity, school or hospital when you expire.
Or how about setting aside and designating one week each year as the week of giving and empathy, then organize various fund-raising and awareness-raising activities for the whole week nationwide?
Bangkok Metropolitan Administration and each province can organize an annual charity concert and raise funds for various causes. Shopping malls can set aside more space for donations and more.
In the end, we must also try to tackle the root causes of poverty and inequality as well. Schools, particularly elite ones, should teach students to respect others as equal no matter what station in life they may be. They should expose them to underprivileged people both in Bangkok and beyond.
These are just some preliminary thoughts and I believe more heads led by the right hearts will lead to a better and more caring society. It is imperative that we do not become jaded to the current situation and simply accept that little or nothing can be done about it. We just need to take the first step.
In this sense, whether you think what Srettha did was just a PR stunt or not or whether you agree with his other political views, in the end it was the right move that he made.