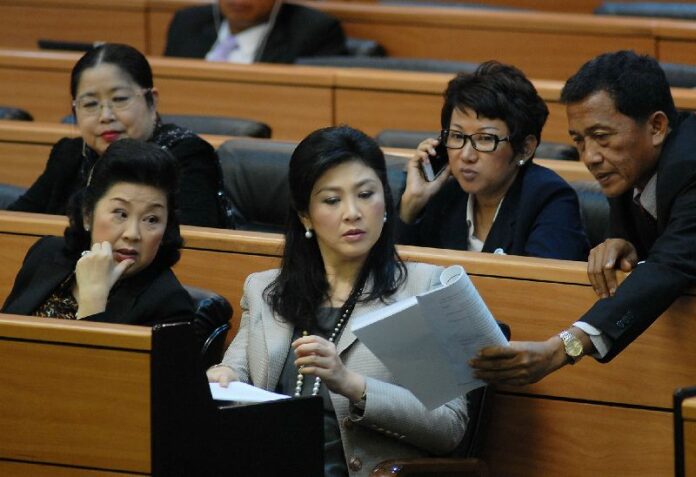 (28 August) The parliamentary debate on the Constitution amendment yesterday saw a bizarre moment in which lawmakers argued whether the beauty of Prime Minister Yingluck Shinawatra is related to the Constitution.
The ruling Pheu Thai Party proposed an amendment that would allow all Senators to be elected and remove restrictions on Senators? qualification; under the current 2007 Constitution half of the Senate is appointed by a panel of ?experts?.
Ms. Yingluck joined the debate for the first time as an MP, sitting next to her sister, Ms. Yaowapa Wongsawat, another big player in the Shinawatra clan.
During his explanation why an amendment is needed, Mr. Prasert Prakhunsueksaphan, the Pheu Thai Senator representing Khonkaen Province, also made reference to Ms. Yingluck, calling her "a beautiful" and "intellectual" Prime Minister.
The remark was protested by a Democrat MP, Mr. Sathit Pituthecha, who accused Mr. Prasert of "licking" (currying favour from) Ms. Yingluck to win her support for the next Senate election. He also charged that Mr. Prasert′s compliment of Ms. Yingluck′s prettiness is not relevant to the Constiutional amendment.
Mr. Prasert then argued that he only said in the nature of what is correct.
After further verbal exchanges between the pair, Mr. Somsak Kiatsuranon, the House Speaker, delivered his judgement that Ms. Yingluck′s beauty is indeed not related to the Constitution, and asked Mr. Prasert to "stay on the topic" of the parliamentary discussion.