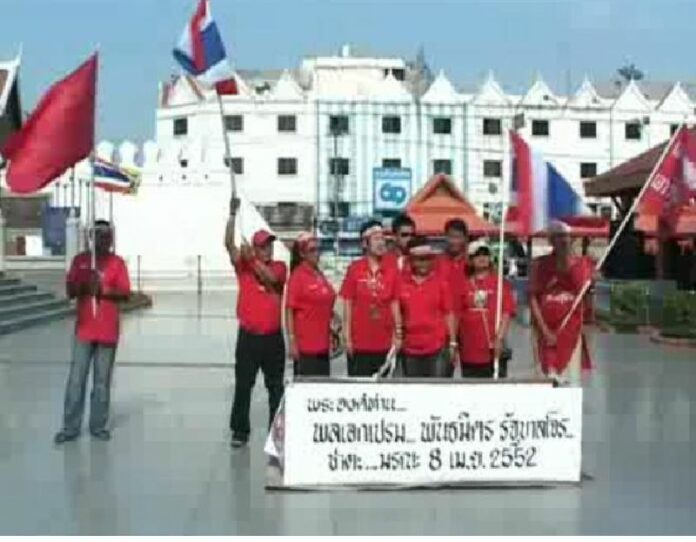 NAKHON RATCHASIMA – The Supreme Court in Nakhon Ratchasima Province has sentenced a local Redshirt leader to 3 years in jail for burning a coffin bearing the name of His Majesty the King′s Privy Councillor.
Ms. Paphachanan Ingchan, known by her supporters as the Red Lady (เจ๊แดง), had been found guilty under Section 112 of the Criminal Codes, which criminalises making insults or threats against His Majesty the King, His Majesty the Queen, and the Royal Heir.
She was charged with the crime after she led a protest in the province in April 2009 against the Head of Privy Council, Gen. Prem Tinsulanond, whom the Redshirts saw as an influential figure behind the 2006 military coup that ousted former Prime Minister Thaksin Shinawatra.
At the protest, Ms. Paphachanan and her group burned a mock coffin bearing the name of Gen. Prem, sarcastically addressing him on the coffin as ′Pra Ong Than′, which roughly translates as ′His/Her Highness′.
Few days later, a high-ranking military officer filed a complaint to the police.
The lower courts have argued that such display amounts to threatening His Majesty the King, as the title is only reserved for the King in the court′s opinion. The Supreme Court has sided with the previous rulings, handing down unsuspended jail term to Ms. Paphachanan.
Nonetheless, it should be noted that Ms. Paphachanan and her group at the protest were mocking a remark previously uttered by the leader of the Yellowshirts, Mr. Sondhi Limthongkul, on his protest stage earlier that year.
In the moment filmed by many, Mr. Sondhi referred to Gen. Prem as ′Pra Ong Than Prem′. The incident was most likely a slip of tongue, and Ms. Paphachanan and her Redshirts mocked the incident, which led to the jail sentence.
No legal action has been taken against Mr. Sondhi.
The ruling also came as a surprise to many observers, because Section 112 itself does not criminalise insults against members of the Privy Council.
Furthermore, the word ′Pra Ong Than′ is usually not exclusively used to refer to the His Majesty the King. Children of the King, for instance, can also be addressed as ′Pra Ong Than′.
For comments, or corrections to this article please contact: [email protected]
You can also find Khaosod English on Twitter and Facebook
http://twitter.com/KhaosodEnglish
http://www.facebook.com/KhaosodEnglish