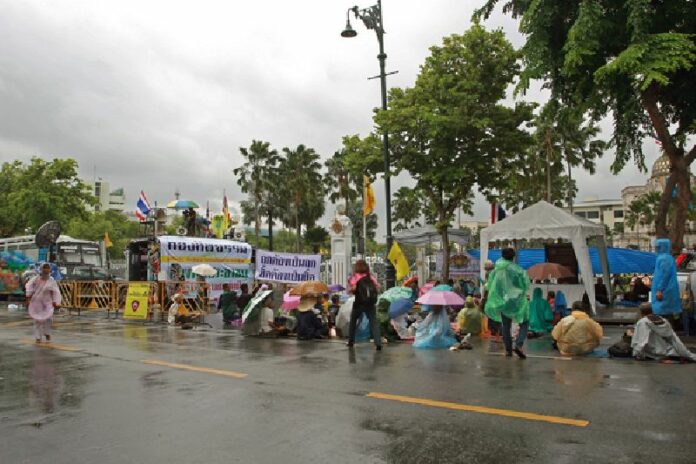 (8 October) Hundreds of anti-government protesters are occupying the streets around Government House in Bangkok today to await the unfolding of 'apocalypse' that would bring down the government of Prime Minister Yingluck Shinawatra.
Rumours which have been circulating among the anti-government circles in recent weeks claim that a major political upheaval would take place on 8 October due to a combination of astrological alignments.
A group of anti-government protesters, which have been staging a prolonged rally in Bangkok′s Lumpini Park, moved from their campsite in the park and marched to Government House yesterday evening, where they spent the night waiting for the prophesied events – largely understood to be a military coup or a politcal chaos.
Calling themselves the People′s Force for Democracy to Overthrow Thaksinism (PEFOT), the protesters are hostile to Ms. Yingluck and her brother, former Prime Minister Thaksin Shinawatra, who is seen by the group as a corrupt tyrant with anti-monarchy attitude.
Six companies of police officers kept the order around Government House throughout the night, a senior police officer said, while the protesters kept themselves busy with speeches on the stage denouncing the government of Ms. Yingluck and lively music performance.
Mr. Taikorn Ponsuwan, the representative of PEFOT, said his group is opposed to the government′s attempt to amend the 2007 Constitution, which is aimed to pave way for a fullly elected Senate body.
The protesters are still occupying the streets around Government House by late afternoon of 8 October, although the prospect of any divine intervention against the government is fading as the clock strikes toward the end of the day.
The number of the protesters fluctuates by the hours, but the average number is estimated to be 200-300 protesters.
Nevertheless, the police reinforced their numbers around Government House compound, raising the officers to 12 companies. The security checkpoints in the compound are also visibly more stringent throughout the day, our correspondent reports.
Lt.Gen. Paradorn Pattanatabut, the secretary-general of the National Security Council (NSC), said the authorities are keeping close watch at the protests even though the size of the rally is relatively small. "The protesters have sent a signal of a long-term rally," Lt.Gen. Paradorn said.
Meanwhile, the commander of the Bangkok Metropolitan Police, Pol.Lt.Gen. Kamronwit Thoopkrachang, said in a press conference that the authorities do not have any plans to impose emergency laws to contain the protests at the moment.
"The only thing we are concerned about is the protesters blocking the traffic," Pol.Lt.Gen. Kamronwit said.
For comments, or corrections to this article please contact: [email protected]
You can also find Khaosod English on Twitter and Facebook
http://twitter.com/KhaosodEnglish
http://www.facebook.com/KhaosodEnglish