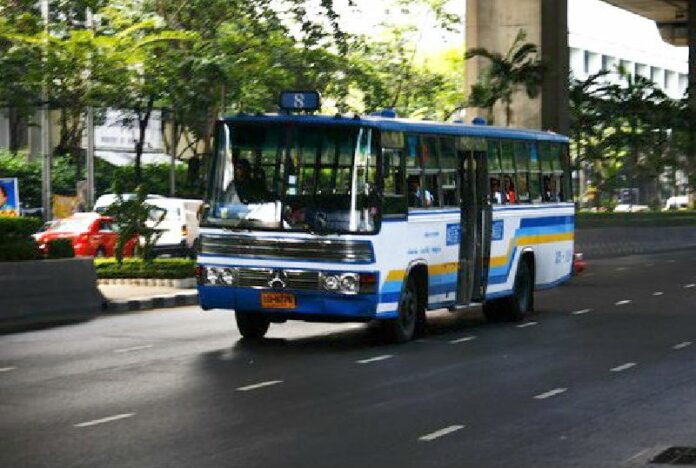 (October 7) Bangkok public transport authority has ordered the immediate expulsion of a bus driver and a bus conductor who were filmed as they shouted abuse at a passenger.
The announcement came after the circulation of the video clip, which showed the staff on a number 8 bus arguing and shouting with a passenger who complained about their poor service.
The clip, which was widely shared on the social network, was seen as yet another evidence of the substandard service provided by the number 8 buses, which belong to the state authority but are contracted to private operators.
Mr. Opas Petchmunee, director of the Bangkok Mass Transit Authority (BMTA), said today that an official received complaint about the argument between the bus staff and a passenger on 5 October, and reported the matter to the Authority soon afterwards.
The BMTA has conducted an investigation and discussed the issue with representatives of Sap 888 Company, which operate the bus service, Mr. Opas said.
"The investigation concludes that the staff have committed wrongdoing," the director said, adding that the BMTA has taken immediate actions, ordering the company to immediately fire the bus driver and the conductor.
The bus on which the confrontation took place would also be taken out of service for 10 days, Mr. Opas said, and the BMTA will notify other private bus companies under contract with the Authority not to receive the expelled staff to work with them in the future.Number 8 buses are notorious for rude staff and reckless behaviour of the drivers.
In an online poll organised by the Minister of Transport earlier this year, the number 8 route buses are voted as the worst buses operating in Bangkok metropolis.
For comments, or corrections to this article please contact: [email protected]
You can also find Khaosod English on Twitter and Facebook
http://twitter.com/KhaosodEnglish
http://www.facebook.com/KhaosodEnglis