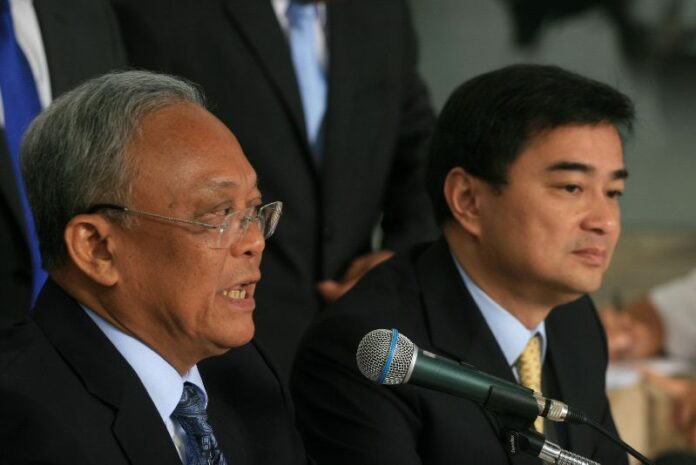 (28 October) Former Prime Minister, Mr. Abhisit Vejjajiva, and his deputy, Mr. Suthep Thuegsuban, have been indicted to face charges for authorising the military crackdown to quell the unrest during the 2010 demonstrations in Bangkok.
Mr. Nantasak Poonsuk, Spokesperson for the Office of Attorney General (OAG) said that the OAG agreed with the proposal made by the Division of Special investigation (DSI) that Mr. Abhisit and Mr. Suthep, who are currently serving as Democrat MPs, are guilty of the charges, which resulted in the deaths of 92 people.
Evidence and witnesses presented indicated that Mr. Abhisit and Mr. Suthep's decisions to allow the Centre for the Resolution of the Emergency Situation to launch the military crackdown and the use of live ammunition and real weapons in the military crackdown are considered as an ?overreaction? leading to several deaths and injuries, said the OAG spokesperson.
Mr. Chavanont Intarakomalyasut, spokesperson for Democrat Party responded to the OAT's decision that it came as no surprise to Mr. Abhisit and Mr. Suthep, and that they would both continue to fight the case in court.
According to the Democrat spokesperson, the decision is known to have been planned in advance, as the DSI has been actively working on the case since the Phuea Thai government came to power. Moreover, the current government has also been eagerly pressuring Mr. Abhisit and Mr. Suthep to accept the 'Amnesty for all' bill.
Mr. Chavanont said that the responsibility to investigate the case should fall on the Office of the National Anti-Corruption Commission (ONACC), rather than the DSI, solely because the decision to calm the unrest was made while Mr. Abhisit and Mr. Suthep were holding top positions in the Government.
He also said that under the administration of the Thaksin regime, Thailand′s rule of law had been totally ruined.
Mr. Abhisit and Mr. Suthep are ready to face the charge in order set a good example for the current and future Prime Minister, said Mr. Chavanont. The two individuals insisted that they will not accept amnesty in any form, and hence their spokesperson said it is ineffective if the government believes they could pressure Democrat MPs to accept the controversial Amnesty Bill.
"We are doing our best to stand up against the bill, both within and outside the parliament", said Mr. Chavanont.
The Democrat spokesperson also urged the government and the United Front for Democracy Against Dictatorship (UDD) to stop misleading the society and asked Thai people to go against the amnesty bill.
"Everybody should face trial in court, to disclose the truth", said Mr. Chavanont.
For comments, or corrections to this article please contact: [email protected]
You can also find Khaosod English on Twitter and Facebook
http://twitter.com/KhaosodEnglish
http://www.facebook.com/KhaosodEnglish