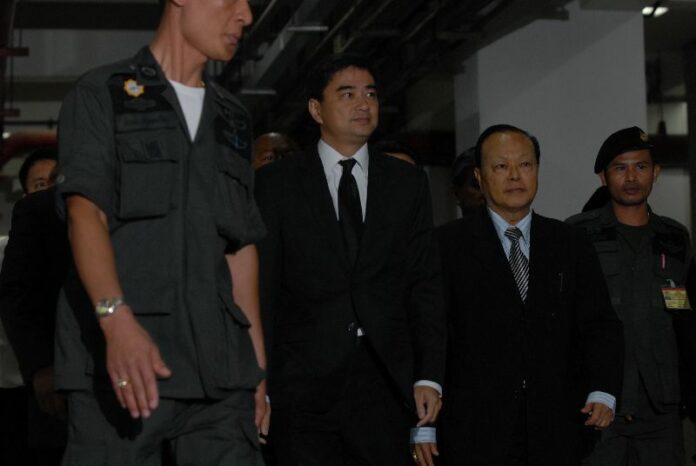 (12 December) Former Prime Minister Abhisit Vejjajiva has attended the court trial for the first time to fight charges related to the military crackdown he had authorised in 2010.
The Division of Special Investigation (DSI) has charged him and his former deputy, Mr. Suthep Thaugsuban, with murders for the deaths of Redshirts protesters and bystanders who have been reportedly killed by the military acting under his order during the turbulent months of April-May 2010.
The crackdown killed over 90 people, most of them civilians.
Arriving at Ratchada Criminal Court in Bangkok this morning, Mr. Abhisit was greeted by a group of his supporters, who handed him roses, while relatives of those killed in 2010 crackdown rallied on the other side of the court entrance, loudly scolding the former leader for allegedly causing their losses.
The rival groups also briefly exchanged war of words, but the police have prevented them from physically clashing with each other by placing metal barriers between the two groups.
A number of Democrat MPs accompanied Mr. Abhisit to the court, but Mr. Suthep did not make appearance at the court today; in fact, few observers expected him to make an appearance, Mr. Suthep is currently leading anti-government protests and has been charged with separate criminal cases for his "insurrection".
Mr. Suthep′s lawyer, Mr. Jessada Anucharee, has asked the court for a postponement of his appearance to 16 January 2014. His request is being deliberated by the prosecutor office.
Meanwhile, Mr. Abhisit denied all charges before the judges, leading the judges to set the next trial at 24 March 2014. Mr. Abhisit lawyer then filed for a bail release, posting the asset of Mr. Abhisit′s property in Chonburi province as bail money.
The relatives of the 2010 crackdown victims contested Mr. Abhisit′s request, but the court eventually approved it, on the condition that the former leader cannot leave the country without an explicit permission issued by the court.
After the court session was over, Mr. Abhisit and his entourage quickly left the court building via the back exit, presumably to avoid meeting with the large crowd of reporters, both Thai and foreign, who were waiting to interview him at the court entrance.
For comments, or corrections to this article please contact: [email protected]
You can also find Khaosod English on Twitter and Facebook
http://twitter.com/KhaosodEnglish
http://www.facebook.com/KhaosodEnglish