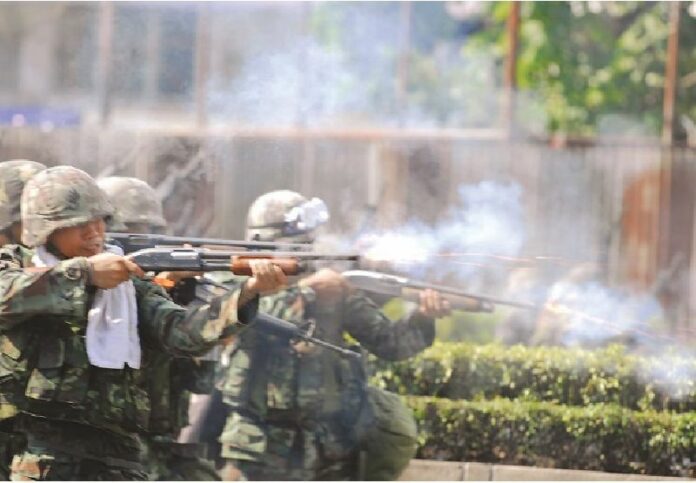 (8 January) The Office of Attorney General has given a deadline for PCAD leader Suthep Thaugsuban to meet with the prosecutors and proceed with his murder charges, according to the court spokesman.
The leader of People′s Committee for Absolute Democracy With the King As Head of State (PCAD) has been charged with murders alongside former Prime Minister Abhisit Vejjajiva following court inquests which indicated that the military operation both men had authorised against Redshirts protests in 2010 have caused deaths to unarmed civilians.
More than 90 people died in the 2010 unrest. Although the military and the government at the time denied causing deaths to any civilians, numerous court inquests have contradicted their claims.
While Mr. Abhisit met with the public prosecutors on 12 December last year as instructed by the court, Mr. Suthep has postponed the meeting via his lawyer, citing busy schedule. The court approved the postponement and instructed Mr. Suthep to attend the court in early January.
However, Mr. Suthep′s lawyer has requested another postponement today, said spokesman of the Office of Attorney General, Mr. Nantasak Poolsuk, who also serves as chief of the Department of Special Litigation.
According to Mr. Nantasak, the PCAD leader claimed he needed to closely oversee the protests scheduled on 7-13 January. Mr. Suthep also stated that if he was not present at the protests and take care of the demonstrations by himself, his numerous supporters might be harmed by ill-intentioned assailants, Mr. Nantasak said.
Mr. Suthep has requested that he meet with public prosecutors on 6 February, and the court has subsequently approved his request, said the Department of Special Litigation chief.
"We decide that Mr. Suthep has no intention to delay the process," Mr. Nantasak said.
However, he said, the court has made clear to Mr. Suthep that it is imperative he shows up for the meeting as instructed on 6 February, since the court case cannot be delayed any further.
"The prosecutors have prepared over 100 witnesses to testify to the court, and many more document evidences," Mr. Nantasak told reporters.
He added that if Mr. Suthep entered the court procedures after the witness examination stage had already started, the court would be required to start the whole phase all over again so that Mr. Suthep, as a defendant, would be able to cross-examine the witnesses.
"It would make the process repetitive and very delayed," Mr. Nantasak said.
Mr. Nantasak also warned that an arrest warrant on Mr. Suthep would be approved if he fails to meet with public prosecutors on 6 February.
For comments, or corrections to this article please contact: [email protected]
You can also find Khaosod English on Twitter and Facebook
http://twitter.com/KhaosodEnglish
http://www.facebook.com/KhaosodEnglish