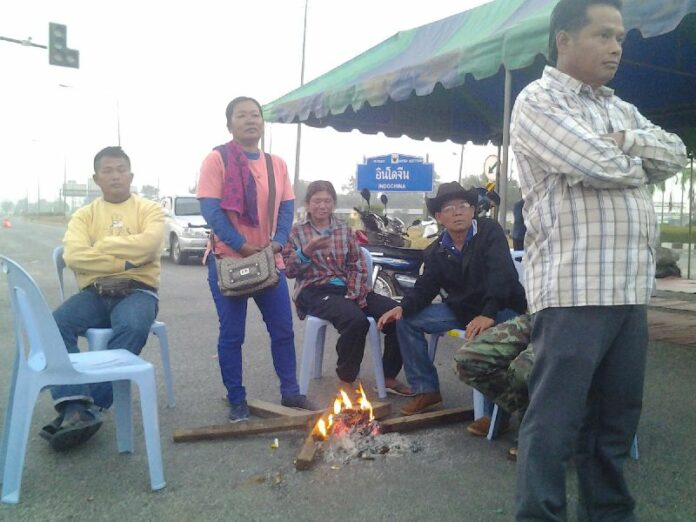 (29 January) Farmers in Phitsanulok province have alleged that they had been coerced into disbanding their protests for the rice money promised by the government.
A group of rice farmers has been protesting at Indochina Intersection in the province for days, calling for the money the government owed them under the controversial rice-pledging scheme.
The protest in Phitsanulok was merely one of widespread shows of discontent among rice farmers in many provinces, who were angered by the missed promises of the government to compensate them.
But the protesting farmers in Phitsanulok suddenly announced today that they will no longer continue the rally.
Explaining the group′s sudden disbandment, Mr. Chatree Amphoon, the leader of the farmer protesters, burst into tears and alleged that a group of local pro-government Redshirts had threatened to commit violence against his family members should he keep protesting.
High-ranking governmental officials are also reportedly involved in the intimidation campaign.
Mr. Chatree also expressed his difficult decision to stop protesting, since he is torn between the need to protect his family and the determination to speak on behalf of other rice farmers in distress.
"We would like to see the Governor of Phisanulok to help us, but he ignored us," Mr. Chatree said, "I don′t know what is going on, since he had stated previously that he is on the side of the people".
However, Mr. Chatree remains optimistic that "the governor is looking for a solution for every farmer in trouble".
Our correspondent reported that after Mr. Chatree explained about his worries, a group of farmers had also broke down in tears, and angrily shouted about their troubles.
Ms. Waraphon Kanya, 29, from Phrompiram district, told our correspondent that her families, including her parents, are relying on rice-farming as their main occupations.
According to Ms. Waraphon, her family owns 6.4 Hectare of Rice Farm, while her parents rent 24 Hectare, costing them 810,000 baht rental cost per year.
She claimed that rice farming has become really expensive recently. Her family had to spend 80,000 baht per year for fertilizer, and another 7,000 baht to pump water into their rice field as well as the land rental cost, Ms. Waraphon said.
The farmer also lamented that her dream to earn 329,000 baht from the government's rice-pledging scheme has now been destroyed, even though it is her only hope to sustain her business.
"I felt cheated by the government" Ms. Waraphon complained, noting that the government has indefinitely postponed the payment of the scheme out of legal concerns.
"We all love farming, it helps our family living. We had suffered big loss sometimes, but we fight to sustain the living", said Ms. Waraphon.
She added, "I do not know if I will have the chance to enjoy the money, as I have to repay my debts from borrowing from underground source with daily interest rate of 2%. I do not have money to support my children to school, nor to buy food for our living. We are now really in distress".
For comments, or corrections to this article please contact: [email protected]
You can also find Khaosod English on Twitter and Facebook
http://twitter.com/KhaosodEnglish
http://www.facebook.com/KhaosodEnglish