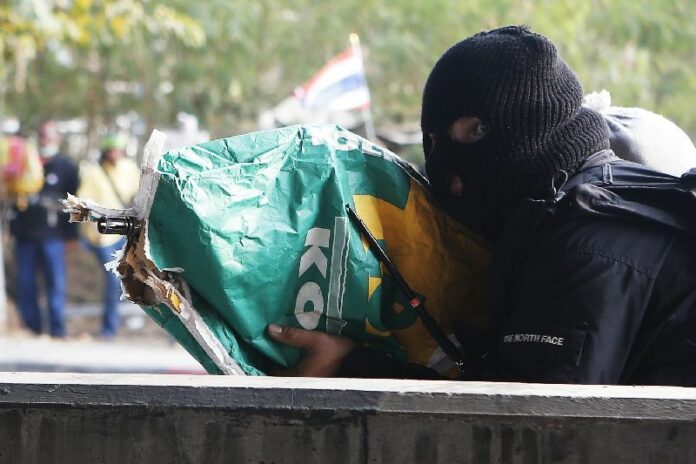 (2 February) The pro-election protester who has been paralysed by gunfire in the pre-election violence has pleaded for compensation from related authorities.
Mr. Arkaew Saelew is among the six people injured in the clashes between the Redshirts and heavily armed gunmen allied to the People′s Committee for Absolute Democracy With the King As Head of State (PCAD) at Bangkok′s Laksi district yesterday.
Although a number of supporters of both sides were armed, the Redshirts were eventually outgunned by PCAD guards, who were seen wielding several automatic rifles.
Mr. Arkaew′s daughters, Ms Euangfah and Ms. Wilaiphon Saelew, told reporters at his bed side that he was participating in the pro-election march near Lak Si Intersection when he was shot in the neck.
The women stated that their father has to stay in Intensive Care Unit after medical personnel at Viphavadi Hospital removed the bullet from his neck but warned that he must be closely observed for possible infection from his wound.
Medical staff confirmed that Mr. Arkaew will suffer a permanent paralysis from his neck to his toes.
Mr. Arkaew′s family is also calling for aid from related authorities to compensate for his condition.
They insisted that their father does not belong to any political groups. Mr. Arkaew, they said, was simply demanding the election to take place on 2 February and had joined the march to support the poll – only to be assaulted as he was exercising his rights of assembly.
Today, two core leaders of the United Front for Demoncracy Against Dictatorship (UDD), Ms. Thida Thavornseth and Mr. Weng Tojirakarn, also visited Mr. Arkaew to express their gratitude for his fighting for the 2 February election.
Meanwhile, Mr. Amnuay Phanpairoj, UDD coordinator for Laksi district, claimed that the clashes between the UDD and PCAD on Saturday broke out when a car approached the UDD demonstrators at high speed on Local Road towards IT Square Mall.
The car tried to slam into the Redshirts supporters, Mr. Amnuay said, and in the subsequent chaos the Redshirts threw rocks and wooden sticks at the vehicle out of frustration in order to stop the car.
The violence erupted when the driver got out of the vehicle and threw two explosives at the Redshirts, Mr. Amnuay alleged.
The situation worsened when more bombs were thrown at UDD demonstrators from the nearby bridge, according to Mr. Amnuay. Sound of machine guns and bombs were later reportedly heard continuously at the scene.
The group then decided to hide inside IT Square Mall, Mr. Amnuay said, while the police and military officers who were stationed nearby refused to intervene and calm the situation.
"We insist that we did not try to provoke any violence. We only wanted to campaign for the public to participate in the election", explained Mr. Amnuay.
For comments, or corrections to this article please contact: [email protected]
You can also find Khaosod English on Twitter and Facebook
http://twitter.com/KhaosodEnglish
http://www.facebook.com/KhaosodEnglish