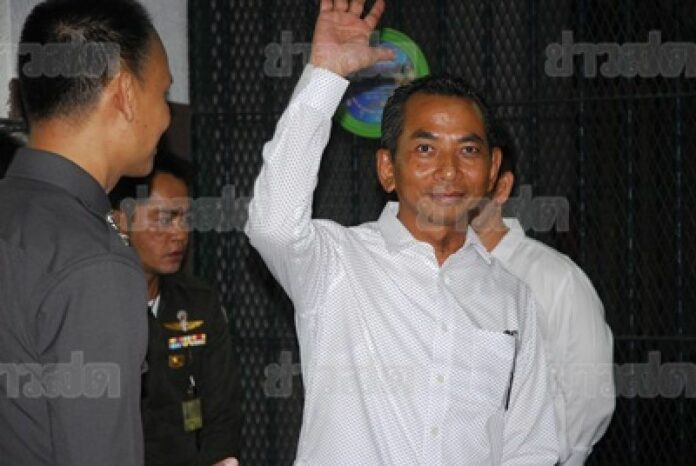 (13 February) The police are instructed by the court to release a prominent anti-government activist less than a week after he was arrested.
Mr. Sonthiyarn Chuenruethai-naitham, a core leader of the People′s Committee for Absolute Democracy With the King As Head of State (PCAD) and a former director of an anti-government TV channel, was apprehended by the police 4 days ago due to his involvement with the ongoing protests, which are in principle banned under the emergency decree.
The police also currently hold arrest warrants on other PCAD leaders such as Mr. Suthep Thaugsuban, and many observers see Mr. Sonthiyarn′s arrest as the beginning of the authorities′ offensive move against the protest leadership.
But today the Ratchada Criminal Court ruled that the police must release Mr. Sonthiyarn, claiming that the suspect has been fully cooperating with the police in their investigation.
"Therefore, it is beyond reasonable cause to detain the suspect any further," the court statement reads.
The police previously denied Mr. Sonthiyarn a bail release, due to the enactment of the State of Emergency, which allowed the police to detain suspects up to a week without any charge.
Speaking at the court, Mr. Sonthiyarn cheerfully told reporters that he is in good health, as the police have taken good care of him.
Nevertheless, Mr. Sonthiyarn said he would take legal action against the officers who raided his residence after his arrest, alleging that the police have illegally entered his properties.
The PCAD leader would be released later today at Pathum Thani Border Patrol Police headquarters, where he had been detained in recent days, police said.
You can also find Khaosod English on Twitter and Facebook
http://twitter.com/KhaosodEnglish
http://www.facebook.com/KhaosodEnglish