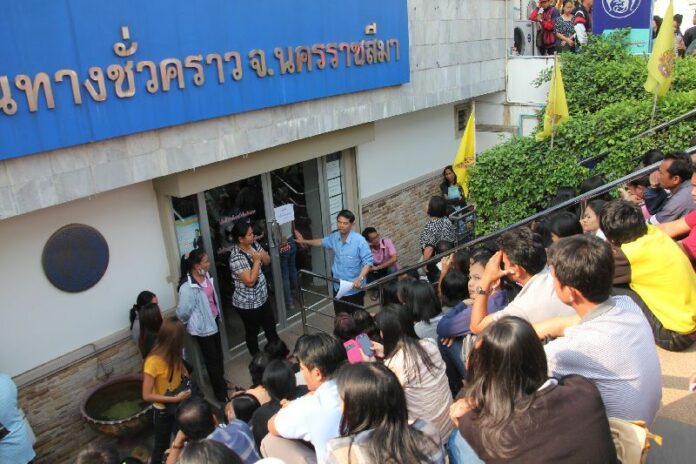 (13 February) The Department of Consular Affairs has insisted that passport registration service is back to normal, in spite of evidence suggesting otherwise.
"We can service the public like in normal situation, on the average of 7,000 cases per day," said Mr. Thongchai Chasawad, director of the Department, "That′s a sufficient level, even exceeding the demands of the public".
Passport application process has been severely disrupted since protesters led by the People′s Committee for Absolute Democracy With the King As Head of State (PCAD) occupied Chaeng Wattana Road and forced the shutdown of Government Complex, where the Department of Consular Affairs is based, since 13 January.
Members of the public who wished to apply for or extend their passports were forced to line up early in the morning at temporary consular offices in Bangna and Pinklao districts of Bangkok.
But Mr. Thongchai downplayed the problem, insisting that passport procedure across the country "has no obstacle".
He added that he is confident no passport will be lost in the mail, but if it does happen, the Department is willing to issue a new one for those affected.
"Even if the protests continue, we won′t be affected," Mr. Thongchai said, "We can still deliver the passports on time".
The Consular Department director also told reporters the negotiation with PCAD protesters to re-open Government Complex is still ongoing, stressing that the officials would only return to work when the situation is completely safe for them.
However, reports from many passport venues today appear to contradict Mr. Thongchai′s remarks.
Quota for passports service at Queen Sirikit Centre ran out since midday on Thursday, disappointing many people who had been lining up since early morning.
The temporary office of passport division in Nakhon Ratchasima province likewise sees much chaos when the quota ran out and caused a number of applicants to argue hotly with the staff.
They complained that they had been waiting at the office since as early as 01.00 in the morning, yet fail to get their passports processed due to the maximum production of 220 applicants a day.
More than 20 police officers and volunteers were summoned to calm the situation at the venue.
One applicant, Mr. Surasit Wantakeaw, 25, a resident from Nakhon Ratchasima's Mueang District, told our correspondent that he needs to have his passport issued as soon as possible, as he is going to work in Singapore on 3 March.
"I would definitely go bankrupt if I miss the deadline, because I have spent all my money on the trip" Mr. Surasit complained.
Meanwhile, in Khon Kaen province, Ms. Phonthip Kaweekijpattiphon, Temporary Director of the Passport Division, stated that numbers of applicants who fail to get booking tickets under the allowed quota had refused to go home, choosing instead to queue up in front of the office.
Some of the applicants were students who are attending their internship schemes in ASEAN countries from April to July, and are thus required to have their passports for the trips.
Ms. Phonthip claimed that her office is now working full time without a lunch break in order to process every passport application by 15.30. The office will be closed daily at 17.00, to ensure officers their safety during the ongoing political turmoil.
For comments, or corrections to this article please contact: [email protected]
You can also find Khaosod English on Twitter and Facebook
http://twitter.com/KhaosodEnglish
http://www.facebook.com/KhaosodEnglish