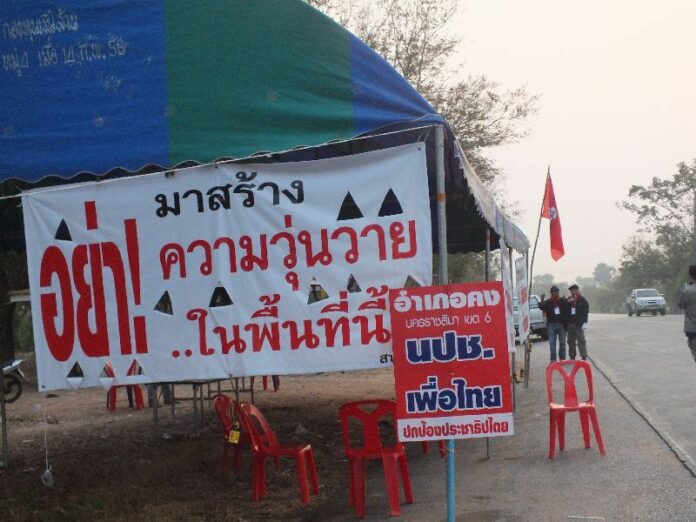 (25 February) Redshirts militants in Nakohn Ratchasima province have prevented rice farmers in the region from organising a rally to voice their grievance.
Rice farmers from 20 provinces in northeastern Thailand have previously announced their plan to stage a rally along Mittaparp Road in Korat to demand the rice payment the government has promised them under the controversial rice-pledging scheme.
However, more than 30 "guards" of the United Front of Democracy Against Dicatorship (UDD) arrived at Mittaparp Road in Pimai district this morning and set up several tents on the venue initially marked by the rice protesters as their rally site.
Many of the Redshirts guards wore balaclava and black shirts. Some of the guards proceeded to hang banners with threatening notes to the oncoming farmers. One banner reads "Don′t cause trouble here". Another, "Democracy is not about thugs closing down the roads".
Mr. Nakorn Srivipat, leader of the rice farmers protesters, later called off the rally, citing safety concerns for the demonstrators due to the black-clad UDD guards.
"Our coordinators agreed that we don′t want any confrontation," Mr. Nakorn said, "It might lead to chaos and losses".
He added that the farmers have been instructed to meet at another venue in Chokechai district, where they would discuss further measures to pressure the government.