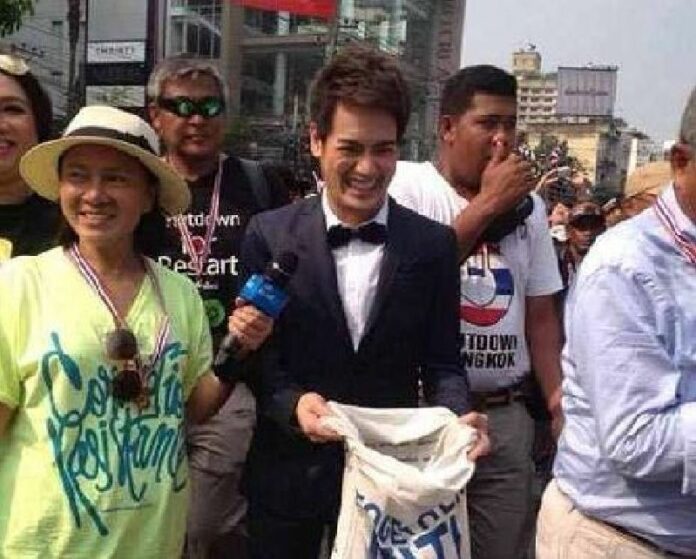 (25 February) A pop singer allied to the anti-government protest movements was forced to cancel his show in Chiang Mai province after Redshirts gathered at the concert venue.
Pongsak "Off" Rattanapong was due to give his performance at Paak Pong bar-and-restaurant in Mueang district last night, but a group of Redshirts led by a local activist arrived at the restaurant shortly before the show and voice their disagreement with Mr. Pongsak′s scheduled appearance.
The activist, Ms. Kanyapak Maneechak, said the Redshirts find it unacceptable that Mr. Pongsak has sided with the People′s Committee for Absolute Democracy With the King As Head of State (PCAD) by helping PCAD leader Suthep Thaugsuban solicit for donations on 10 February.
Mr. Pongsak also appeared with PCAD leaders during their campaign to find donations for rice farmers affected by the rice-pledging scheme.
"Many of the Redshirts who used to support Off are very angry," Ms. Kanyapak said.
As they waited for Mr. Pongsak′s showtime, the Redshirts occupied a number of tables in the restaurant ordered food. At around 00.10, a restaurant manager announced that Mr. Pongsak has cancelled the show. The staff also placed a sign in front of the venue announcing the concert′s cancellation.
However, the Redshirts continued to eat and talk at the restaurant for a while to see whether Mr. Pongsak would show up. He did not. The Redshirts eventually paid their bills and peacefully dispersed from the restaurant.