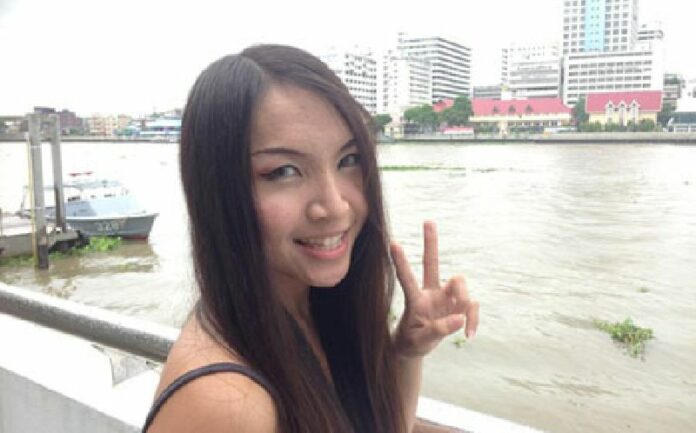 (20 March) A summons warrant has been issued for on an outspoken student activist who has been accused of insulting the Thai monarchy.
The complaint was filed under Article 112 of the Thai Criminal Codes by Ms. Ponnipa Supatnukul, 41, the host of a talk show on a satelite TV station in September last year.
In the complaint, she accused a transgender student activist at Thammasat University, who is famously known as Aum Neko, of insutling the Royal Family during a TV interview hosted by Ms. Pontipa in June that year.
Lese majeste, or defamation of the monarchy, is punishable by up to 15 years in prison per offence under the Thai law.
Ms. Aum, whose real name is Ms. Saran Chuichai, is well-known for her campaigns for a more liberal atmosphere in the campus and for her provocative tactics; she once attempted to remove a Thai national flag hoisted over administrative building of Thammasat University and replace it with a black one, in order to protest about the alleged political bias of the university dean.
Pol.Cpt. Witthawat Sai-Ong said Ms. Aum has been summoned to face charges on 24 March after the police studied the evidence provided by Ms. Pontipa and decided to proceed with the prosecution.
He said the police would be forced to apply for arrest warrant if Ms. Aum refuses to show up on the appointed date.
Speaking to our correspondent, Ms. Aum said she is willing to report to the police on 24 March, but she is still waiting for the police to choose a venue for the meeting.
She added that she will not provide any testimony – and the police are not expected to interrogate her – as she has not appointed a lawyer yet.
The student activist also told Khaosod that she is very distraught by the summons warrant today, since she was also facing an exhaustive investigation conducted by Thammasat University administration yesterday. The inquiry, she said, was meant to determine whether the university will expel Ms. Aum for her past actions, such as the "black flag incident", which has been deemed offensive by a number of staff.
Ms. Aum said the university has not yet informed her of their decision.
Related Story: Lese Majeste Complaint Against Reformist Student