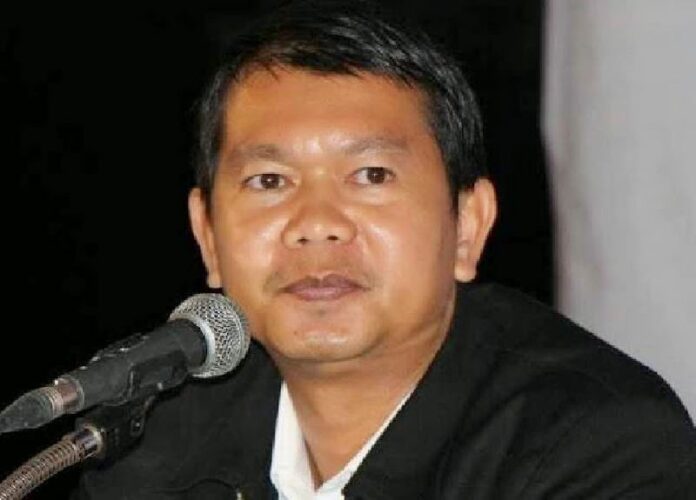 BANGKOK — Prominent Redshirt activists are expressing their resolve to carry on the legacy of the activist poet who was murdered yesterday in a suspected political assassination.
Kamol Duangphasuk, 45, was in a restaurant parking lot in Bangkok when two masked gunmen shot him dead on the spot before speeding away on a motorcycle, police said.
Reports say a number of other Redshirt activists were also present at the restaurant when the murder took place.
Mr. Kamol, who is commonly known by his pen name, Mai Nueng Gor Gunthee, became invovled in many anti-establishment campaigns after the military coup in 2006, well before the formation of the Redshirt movement, which he later joined.
Although police have not established a motive behind the murder, many Redshirts are calling Mr. Kamol's death a political assassination, citing his frequent criticism of the establishment and strong opposition to lese majeste (insult of the monarchy) laws.
"No matter who did this, the incident is a great crime," said Darunee Kritbunyalai, a core leader of the United Front of Democracy Against Dictatorship (UDD). "We merely want to fight for true democracy, and Mai Nueng was a mere cultural fighter. He posed no threat that deserved a violent reprisal."
Another UDD leader, Nattawut Saikua, said in a press conference at Imperial Latphrao shopping mall that the UDD is deeply saddened by the death of Mr. Kamol, who was a strong ally of the Redshirts for many years.
"The violence should not happen to any side, to people who have only expressed their political stance according to the principle they believe in," Mr. Nattawut said. "As far as I know, Mai Nueng was not a man who supported violence or armed struggle. All he had was a pen and his poems."
Mr. Nattawut added, "I believe his poems, essays, words, actions, character, soul, and firm beliefs will help encourage those who still have their lives to carry on the fight. At least he will never be forgotten by us thorough our journey of struggle, and if one day the people have won their victories, he will certainly be among those we remember."
UDD supporters at the press conference paid homage to Mr. Kamol by observing a minute of silence.
Suda Rangkupan, the Redshirt activist who had been working closely with Mr. Kamol in his political activism, criticised the police for failing to provide adequate protection to Redshirt leaders, especially compared to the security measures they have deployed for anti-government protesters.
"These days I feel that we Redshirts live under grave risk," Ms. Suda said. "The police commander has been providing protection to the side of [anti-government leader] Suthep Thaugsuban, but we Redshirts have to face threats and intimidation. I want the police to turn some attention to Redshirts, too."
Ms. Suda also told reporters that Mr. Kamol was a victim of an anti-democracy movement that wanted to stamp out his calls for freedom and liberty. Nevertheless, she urged the Redshirts to retain their determination and carry on the legacy of Mr. Kamol's struggles.
"Let us salute Mai Nueang as a 'defender of Thai democracy.' Mai Nueng liked to use this phrase to refer to martyrs who had laid down their lives for democracy, but today let us use it to refer to Mai Nueng in return," Ms. Suda said.
As he arrived at Police Hospital where Mr. Kamol's body, Mr. Suphon Attawong, aka "Rambo Isaan," said that the murder has undoubtedly brought sadness to many Redshirts, but it also brings resolve to the Redshirts and has strengthened their political convictions.
"I believe Mr. Kamol's death will in fact help strengthen our fights," Mr. Suphon said, adding that the UDD will soon organise a fundraiser for Mr. Kamol's family.
Furthermore, Mr. Suphon expressed his belief that the government should compensate the dead poet's family because the case is "clearly" a political assassination.
The UDD activist also claimed that former Prime Minister Thaksin Shinawatra is closely following the case and has warned his Redshirt supporters to take all necessary steps to protect themselves.
For comments, or corrections to this article please contact: [email protected]
You can also find Khaosod English on Twitter and Facebook
http://twitter.com/KhaosodEnglish
http://www.facebook.com/KhaosodEnglish