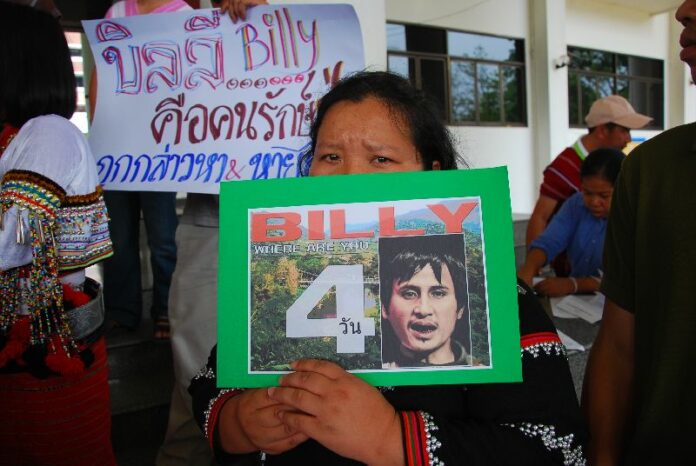 CHIANG MAI — Ethnic Karen activists staged a rally at Chiang Mai City Hall today urging authorities to swiftly investigate the disappearance of a prominent Karen rights activist and key court witness.
Mr. Porlachee "Billy" Rakchongcharoen went missing on 17 April after he was reportedly detained by officials in Kaeng Krachan National Park, Petchburi province.
Mr. Porchalee had been campaigning on behalf of Karen communities that live in the national park and say they have been intimidated by some park officials to leave their homes. Mr. Porlachee is also listed as a witness in a court case against Kaeng Krachan Park chief, Mr. Chaiwat Limlikitaksorn, who has been accused of engineering the violent eviction of 20 Karen families in 2011.
Park chief Mr. Chaiwat is also under criminal investigation for allegedly masterminding the murder of another Karen activist from Mr. Porchalee's network in 2011.
Today, representatives of the Karens in Chiang Mai submitted a letter to Mr. Wichian Phuttiwinyu, the Governor of Chiang Mai, and Prime Minister Yingluck Shinawatra, asking them to resolve Billy's disappearance as soon possible, and to provide protection to Billy's family during the investigation.
The letter demands that Mr. Chaiwat leave his post at Kaeng Krachan National Park immediately to ensure a fair investigation and to lessen the "fear" among the local Karen communities.
If the Thai authorities continue to remain silent on the issue, the letter warns, Karen activists across Thailand will seek help from international bodies, such as the UN High Commissioner on Human Rights.
Waiying Thongbue, an advisor to Karens for Environment and Culture network, said he hopes Billy is still alive and suspects that his disappearance might be connected to his role as a defender of Karens' right to safely live in Kaeng Krachan National Park.
He added that his group will organise a religious ceremony to invite divine blessing upon Billyand place curses on those who are involved in his disappearance.
For comments, or corrections to this article please contact: [email protected]
You can also find Khaosod English on Twitter and Facebook
http://twitter.com/KhaosodEnglish
http://www.facebook.com/KhaosodEnglish