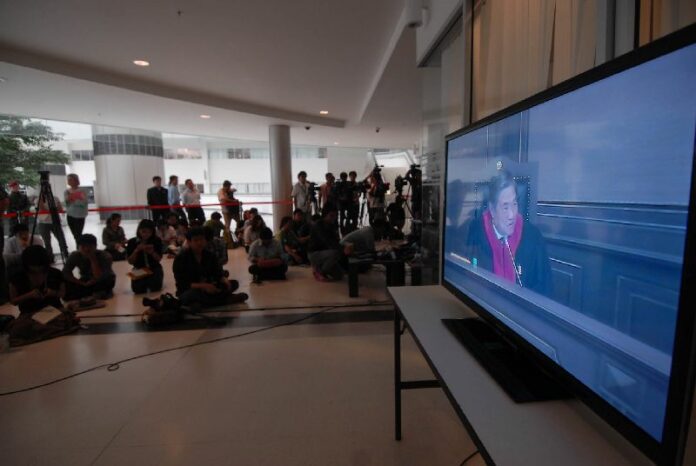 BANGKOK — The government is well-prepared for the possibility that Prime Minister Yingluck Shinawatra will be removed from her caretaker position by the court tomorrow, a top minister has claimed.
"We already have a plan for that, but I can't tell you about the details," Interior Affairs Minister Jarupong Ruengsuwan said in a press conference today.
Ms. Yingluck is facing allegations that she unfairly removed a former head of the National Security Council (NSC) in 2011. The case will be decided by the Constitutional Court on Wednesday.
A guilty verdict will result in Ms. Yingluck losing her seat as the caretaker leader, and it's possible her entire Cabinet will be forced to stept down as well.
A verdict ousting both Ms. Yingluck and her cabinet would create an unprecedented political vacuum in Thailand, in which all seats in both congress and the executive office would be vacated.
Ms. Yingluck dissolved the House in an attempt to placate anti-government protesters in December, and the 2 February poll to elect a new parliament was ruled invalid by the Constitutional Court as result of disruptions by anti-government activists.
A fresh general election is set for 20 July, but the Election Commission has yet to submit a draft of its royal decree to the cabinet.
Mr. Jarupong expressed concern over the possibility of a political vacuum in today's press conference, warning that the country will experience immense "chaos" if the court chooses to oust the Cabinet as well as Ms. Yingluck.
Earlier today, Ms. Yingluck faced her accuser, Thawil Pliensri, in a hearing at the Constitutional Court.
According to Mr. Thawil, who was recently re-installed to the position of NSC chief by the Administrative Court, Ms. Yingluck removed him in order to clear the seat for another official who is allied to the Shinawatra clan.
The Prime Minister and her lawyer contested the allegation in the trial, telling the judges that the decision to transfer Mr. Thawil was based solely onthe principles of meritocracy and professional ability.
The Constitutional Court said it will announce the verdict by 12:30 p.m. tomorrow.
Ms. Yingluck's Redshirt supporters are expected to stage massive protest rallies in Bangkok if the court hands down a guilty verdict tomorrow.
Read More:
Reds Vow March to Bangkok If Court Removes Yingluck
For comments, or corrections to this article please contact: [email protected]
You can also find Khaosod English on Twitter and Facebook
http://twitter.com/KhaosodEnglish
http://www.facebook.com/KhaosodEnglish