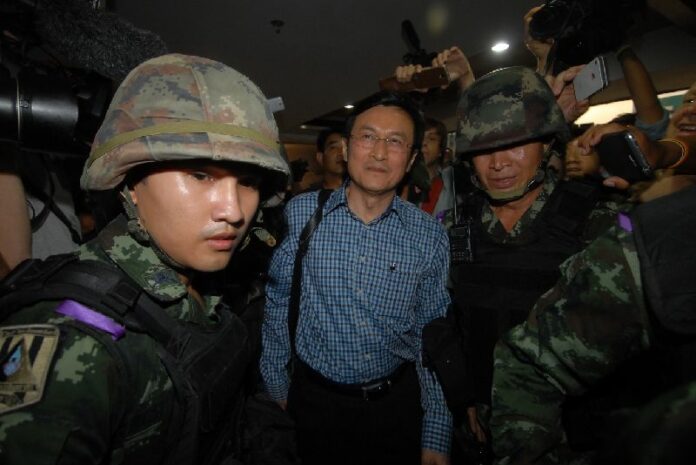 BANGKOK — Prominent politicians from Thailand's rival political parties displayed a rare show of unity with shared criticism of the military junta's new interim constitution.
Both Democrat Party chairman Abhisit Vejjajiva and Pheu Thai politician Chaturon Chaisaeng warned against the unchecked power granted to the junta's National Council for Peace and Order (NCPO) under the interim charter.
The two politicians' main concern was Article 44 of the 2014 Interim Constitution, which permits the NCPO to stay in power after a temporary civilian government is formed and enables NCPO chairman Gen. Prayuth Chan-ocha to unilaterally intervene in matters related to "national security" and "public order."
Under Article 44, Gen. Prayuth is allowed "to order, to suspend, or to take action, regardless of its effects on the legislative, executive or judiciary" against any perceived threats to "public order, national security, the monarchy, national economy or sovereignty of the country."
In a Facebook post, Democrat Party chairman Mr. Abhisit compared Article 44 to Section 17 of the 1959 Charter that similarly granted complete power to a military leader in the name of national security. Mr. Abhisit observed that Article 44 appears to be even more gratuitous than the infamous Section 17.
"Even … Section 17, which is considered to be the most absolute, only gives power to Prime Minister to order or take action to suppress acts that threaten national security," Mr. Abhisit wrote. "The difference is: under Article 44, the special power belongs to NCPO leader. The NCPO does not have to seek consent from the prime Minister."
He continued, "Article 44 clearly states that the power has binding effect in legislative and judiciary aspects, without a process to challenge or scrutinize them. That means it's the ability to issue a law or reverse a court verdict."
Although Mr. Abhisit said retaining special power to intervene in the event of "chaos" is acceptable, he called upon the NCPO clarify the boundaries of its powers.
Meanwhile, Mr. Chaturon, who served as Education Minister in the Pheu Thai-led government prior to the military takeover, raised concerns that the NCPO's power under Article 44 is not subject to checks and balances.
"It contradicts its own constitution and violates the principle of separation of powers," Mr. Chaturon said in a statement released to the press today. "I hope the NCPO will not exercise the power under this article more than what is necessary and appropriate."
The former Education Minister also expressed concern that Article 35 (9), which calls for a mechanism to prevent any attempts to "destroy major principles" of the permanent constitution, will effectively prohibit a future government from amending the charter.
The interim charter, released and royally-endorsed yesterday, calls for the formation of an interim government that will administer the country until elections are held in October 2015 at the earliest.
According to the charter — Thailand's 19th — the temporary government will consist of a National Legislative Assembly who will appoint a Prime Minister and Cabinet, a National Reform Council tasked with proposing widespread national reforms, and a Constitutional Drafting Committee in charge of penning a permanent constitution.
For comments, or corrections to this article please contact: [email protected]
You can also find Khaosod English on Twitter and Facebook
http://twitter.com/KhaosodEnglish
http://www.facebook.com/KhaosodEnglish