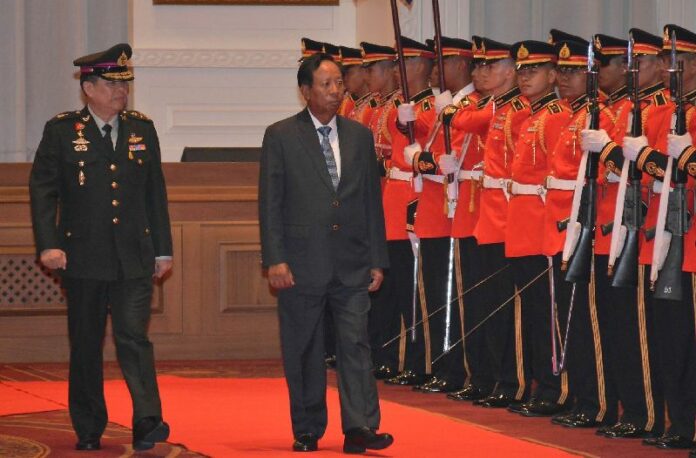 BANGKOK — The Cambodian government "understands" why the Thai military needed to stage a coup against the elected government last month, Thai officials say.
Gen. Tea Banh, Cambodia's Deputy Prime Minister and Minister of Defence, met with Thai Ministiry of Defence officials, including Deputy Permanent Secretary of the Ministry of Defence Gen. Songtham Chokekanapitak, in Bangkok yesterday.
The Cambodian Prime Minister, Hun Sen, understands the situation in Thailand very well and praises Thailand's military junta for its effort to solve many problems in the Kingdom, Gen. Banh said, according official transcripts provided by state media agencies.
Gen. Banh also reportedly told Gen. Songtham that he was honoured to be invited to visit Thailand and believes the junta's actions will lead to "peace and order."
The Thai Ministry of Defence invited Gen. Banh and his delegates to Bangkok in an effort to strengthen ties between the two countries. It was the first time high-ranking officials from Cambodia and Thailand have publicly met since the Thailand's National Council for Peace and Order (NCPO) seized power on 22 May.
The relationship between the two nations has been a subject of great speculation, as the Cambodian Prime Minister, Mr. Hun Sen, is known to have close ties to the former Thai government.
Many activists and politicians allied to the deposed government also fled to Cambodia in the wake of the military coup. Some of them, such as former Minister of Interior Affairs Jarupong Ruengsuwan, vowed to undermine the NCPO by forming an anti-coup organisation in exile.
However, Mr. Hun Sen has confirmed that he will not allow the government-in-exile to take root in Cambodia, suggesting that he is looking to establish cordial relations with Thailand's military rulers.
Last month the Cambodian monarch, Norodom Sihamoni, also granted a royal pardon to Thai ultra-nationalist activist Veera Somkwamkit who had been held in Cambodian prison for three and a half years for trespassing into Cambodian territory during a campaign to "reclaim" a piece of land under dispute by the two governments.
For comments, or corrections to this article please contact: [email protected]
You can also find Khaosod English on Twitter and Facebook
http://twitter.com/KhaosodEnglish
http://www.facebook.com/KhaosodEnglish