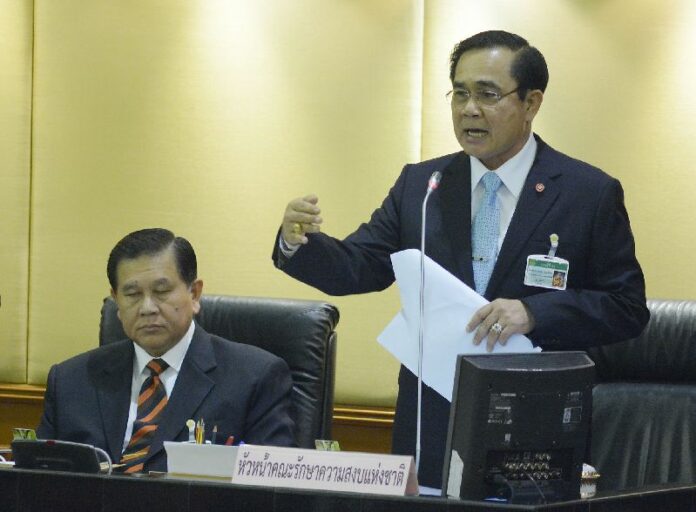 BANGKOK — The chairman of Thailand's military junta says he wants more people to apply for the National Reform Council (NRC), a panel set-up by the junta to carry out widespread "reforms" in post-coup Thailand.
More than 400 people have applied for the NRC so far, but Gen. Prayuth Chan-ocha urged state authorities this morning to step up their PR efforts before the application deadline on 2 September.
The army chief made the comments at a meeting with fellow members of the junta's National Council for Peace and Order (NCPO).
Gen. Prayuth said he wants to ensure that there is a large pool of potential candidates to choose from.
Under the junta's 2014 interim constitution, the NRC will be tasked with drafting and proposing reforms in the following categories: politics, public administration, law and justice, local government, education, economy, energy, public health and environment, mass media, social affairs, and "other."
A screening committee formed earlier this month will nominate up to 50 candidates for each of the categories, after which the NCPO will choose an unspecified number of representatives to join the final council.
The NCPO will also choose one out of the five representatives nominated by 76 provincial selection committees across the country.
According to the interim charter, the final council must not exceed more than 250 members.
Many expect the makeup of the NRC to mirror that of the National Legislative Assembly (NLA), the legislative branch of the interim government whose members were handpicked by the military junta earlier this month. More than half of the legislators are former or current military and police officers. Only twelve of the body's 197s members are women.
Critics of the coup have accused the NLA of being rubber stamp for the coupmakers, as was evident yesterday when not a single NLA member opposed Gen. Prayuth's budget proposal.
However, NCPO deputy chairman Gen. Surasak Karnchanarat insisted that the selection process for the NRC will be a transparent one. He also dismissed accusations that the NCPO has "lock spec" (rigged) which candidates will be chosen to join the reform council.
"It's just the media imagining things," Gen. Surasak said.
The NCPO says it staged a coup on 22 May to put an end to escalating violence and street protests staged by Thailand's rival political factions. Prior to the military takeover, anti-government protesters demanded that unspecified "national reforms" be held before the next election, while pro-government activists rallied in support of holding elections first.
Many critics of coup view the upcoming year-long reform effort, which will be spearheaded by the NRC, as evidence of the NCPO's tacit alliance with the anti-government protesters. The next general election is scheduled to be held in October 2015 at the earliest, and only if the NCPO deems the country's political climate to be "stable."