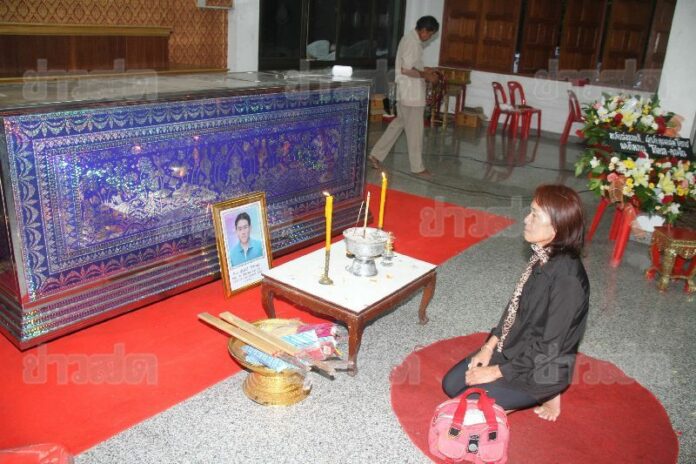 BANGKOK — The cause of a 36-year-old Redshirt's sudden death in prison this week is still unclear, says a physician who participated in a preliminary autopsy.
Surakrit Chaimongkol died on 28 August while he was awaiting trial for a murder charge inside Bangkok Remand Prison. According to prison officials, Mr. Surakrit died from an asthma attack, but his family suspects he may have been beaten to death.
Salaktham Tojirakarn, a physician and son of a prominent Redshirt leader, said the initial autopsy revealed a large amount of bleeding in Mr. Surakrit's digestive system and some "bruises" on his body, but stressed that it is too early to determine a clear cause of death.
"Mr. Surakrit may have died from inflammation in his stomach, caused by an infection in his blood or some sort of poison," Mr. Salaktham said, "We have to wait for [further] examinations."
He continued, "The bruises on the body that his relatives suspect are the cause of his death cannot be clearly determined either … When a person has a low level of blood platelets, bruises may appear on the skin."
The physician estimated that more information about Mr. Surakrit's death will be available in two weeks.
Mr. Surakrit was charged with murder for allegedly shooting and killing Suthin Tharatin, an anti-government protest leader who was leading a rally to disrupt voting near a polling station in Bangkok's Bang Na district on 26 January. The courts denied his request for a release on bail.
The United Front of Democracy Against Dictatorship (UDD), the umbrella organisation of the Redshirt movement, hosted a funeral for Mr. Surakrit last night at Bang Hua Suea Temple in Samut Prakarn province.
Speaking at the funeral, UDD leader and former MP Worachai Hema urged Redshirts to refrain from drawing any conclusions about Mr. Surakrit's death, but also said authorities should do more to protect Redshirt suspects currently held in prison.
"Brother Surakrit is a man who campaigned for democracy. I want the NCPO to take good care of UDD brothers and sisters who are in prison at the moment. Please don't let any other person die in this way," said Mr. Worachai, referring to the military junta's National Council for Peace and Order.
He added, "Please don't hurt UDD people. UDD supporters who have been arrested are not villains. They were merely accused and suspected of committing crimes."
However, Mr. Surakrit's mother, Arie Chaimongkol, insisted that her son's death was unnatural.
"I think my son was definitely beaten to death, because when I visited him in prison he told me that 'Mom, if you don't bail me out, I will surely die,'" Ms. Arie said.
According to Ms. Arie, when she visited her son in prison on 21 August Mr. Surakrit told her he feared for his life because a certain individual threatened to kill "every Redshirt" in the jail.
Ms. Arie said she will not cremate her son's body until "fairness" has been achieved.
Scores of Redshirt supporters and a smaller number of Yellowshirt activists are currently being held in prison for politically-related charges, such as causing unrest, defying the military junta, and insulting the monarchy.
Thai prisons are notorious for their overcrowding, unsanitary conditions, and abuse by other inmates and prison guards. Human rights activists have also criticised the practice of denying bail to political prisoners and housing them in the same facilities as convicts of violent crimes.
For comments, or corrections to this article please contact: [email protected]
You can also find Khaosod English on Twitter and Facebook
http://twitter.com/KhaosodEnglish
http://www.facebook.com/KhaosodEnglish