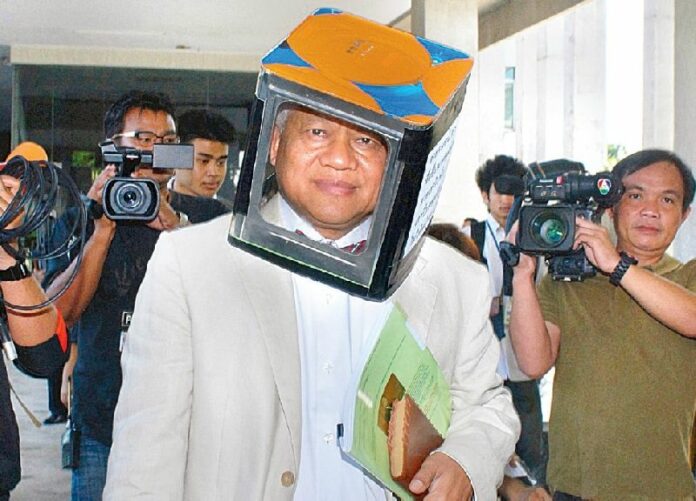 BANGKOK — The rector of Mahidol University has resigned from his post in order to keep his position as Minister of Public Health in the junta-appointed interim government.
A number of professors at Mahidol University have been pressuring Rajata Rajatanavin to choose between the two positions, as university regulations prohibit the rector from holding political office.
Rajata announced his resignation as rector this morning during a deans meeting at Mahidol's Salaya campus.
Shortly after it was announced in late August that Rajata was chosen to be Minister of Public Health in junta-leader and Prime Minister Gen. Prayuth Chan-ocha's Cabinet, Sukree Charoensuk, the dean of Mahidol University's College of Music, staged a public protest calling on Rajata to honour the university's regulations.
When Rajata initially refused, Sukree wore a metal box on his head in a symbolic protest during a meeting with the rector. The metal box was a reference to the Thai idiom "putting a metal box over one's head," which describes feeling ashamed. Other Mahidol academics soon joined Sukree's campaign and urged Rajata to make a decision.
A similar controversy broke out at Thammasat University when its rector, Somkid Lertpaithoon, accepted the military junta's appointment to join the National Legislative Assembly (NLA).
Progressive student activists at the university, which is traditionally known as a hotbed of pro-democracy movements in Thailand, have denounced Somkid for collaborating with what they call the military regime's "rubber stamp parliament."
Mysterious posters criticising Somkid's NLA appointment appeared briefly in several lecture halls of Thammsat University's Rangsit Campus before they were taken down by university security guards.