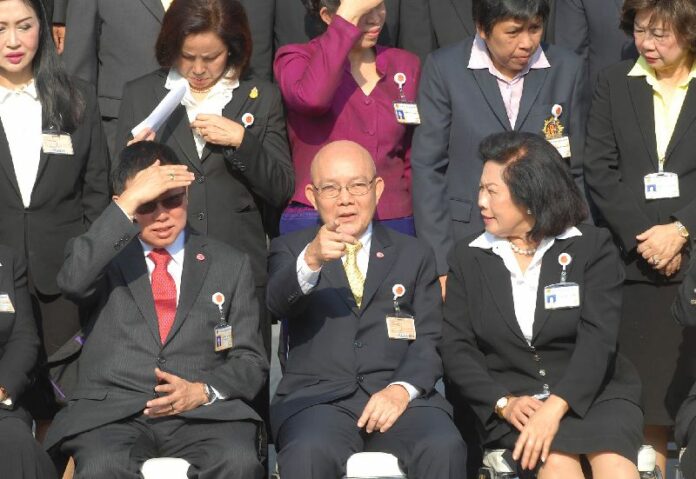 BANGKOK — The chairman of the National Reform Council (NRC) says he is seeking permission from Thailand's military junta to solicit opinions from the public concerning the country's national reform effort.
Thienchay Kiranandana told reporters today he is waiting for the junta's green light because the country is still under martial law, which bans all political activity.
"The NRC will discuss the matter with the NCPO," Thienchay said, referring to the military junta's formal name, the National Council for Peace and Order.
Thienchay has previously vowed to gather opinions from all sectors of Thai society to make the national reform process as inclusive as possible.
He added that he would not petition the NCPO to repeal the martial law, because he believes the law "has no impact" on the NRC's effort to weigh public opinion.
"It has no impact. There's no conflict here, so there is no need to repeal martial law," the NRC chairman told reporters. "We will use a diverse ways to listen to opinions. For example, the public can directly send their opinions to the NRC by mail."
The reform effort was launched by the NCPO, which seized power from Thailand's elected government in a military coup on 22 May 2014. The NRC, whose members were handpicked by the junta in October without any public consultation, have been tasked with implementing reforms across a wide range of sectors, including politics, economics, culture, and mass media among others.
The junta promises that a national election will be held after the reforms and "national reconciliation" have been completed.
Thienchay, a former rector at Bangkok's Chulalongkorn University, said he is confident in the "spirit" of the NRC.
"Everyone knows what they are doing. Let me insist that all of them have an excellent spirit in their work. I am confident that all of the processes will meet the goals we have set," Thienchay said.