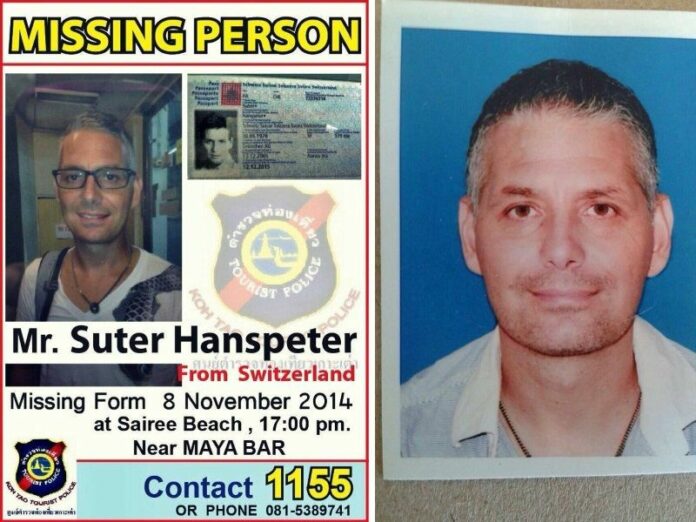 SURAT THANI — Police are searching for a Swiss tourist who went missing from Koh Tao island three days ago and has not been seen since.
Hanspeter Suter, 44, was last seen at around 5 pm on Haat Sai Ri beach on 8 November, said Koh Tao mayor Chaiyan Thurasakul.
According to Chaiyan, the Swiss man rented snorkeling equipment from a store by the beach on Saturday and was later seen snorkeling in a "shallow area."
Staff at the rental store alerted police when Suter did not return after nightfall, Chaiyan said.
Suter's disappearance coincided with a storm that rocked the southern coast of Thailand over the weekend, but Chaiyan said police are optimistic that Hanspeter may be still alive.
"Suter was swimming in the shallow area, so it's unlikely that he drowned," the mayor told reporters. "If he did drown, his body would have swept to the shore already. It's been two days."
Police have urged anyone who has information about Suter to contact them at 1555 or 081-538-9714.
On Saturday, Thailand's Meteorological Department warned of heavy rain and high seas along Thailand's southern coast and urged all vessels in the area to exercise extreme caution.
Provinces affected by the rain storm include Narathiwat, Yala, Pattani, Songkhla, Trang, Satul, Pattalung, Nakhon Si Thammarat, Surat Thani, Krabi, Phang Nga, Ranong, and Chumporn.
Suter's disappearance is the latest incident to hit the popular island of Koh Tao, a top destination for snorkling. Two British backpackers were murdered on the island on 15 September.
Two Burmese workers have been accused of murdering the two Britons, though they have denied the allegation.
CORRECTION: The original article mistakenly reversed the order of the victim's first and last name.
For comments, or corrections to this article please contact: [email protected]