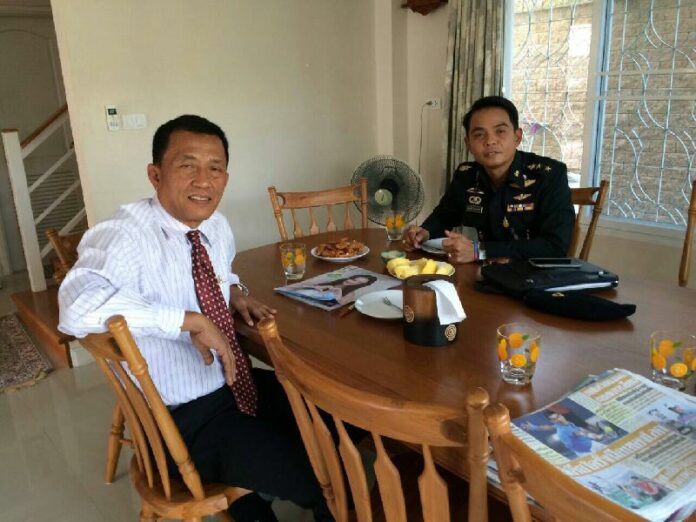 SAMUT PRAKARN — A Redshirt leader and former Pheu Thai Party MP was visited by a military officer at his home in a Bangkok suburb today for an "attitude adjustment" discussion.
Worachai Hema was summoned on Friday to report to the 1st Region Army headquarters in Bangkok after he denounced the recent impeachment of former Prime Minister Yingluck Shinawatra, but the meeting was abruptly canceled this morning.
Instead, a colonel was dispatched to visit Worachai at his home in Samut Prakan province. Worachai was told that army commanders were not free to meet with him because they were busy investigating two homemade bombs that were set off in front of a major shopping mall in downtown Bangkok last night.

Worachai Hema (L) was visited by a military officer in his home in Samut Prakarn province, 2 Feb 2015.
Over the past week, Worachai and a number of other Redshirt politicians have been summoned by junta chairman and Prime Minister Prayuth Chan-ocha for expressing opposition to the junta-appointed legislature's impeachment of Yingluck, which came with an automatic five-year ban from political office.
Yingluck was impeached for allegedly failing to stop corruption in her administration's rice-pledging scheme. Her supporters have called the ruling a politically-motivated effort to weaken the Pheu Thai party's prospects of a winning the next national election, scheduled for 2016 at the earliest.
Speaking to reporters after today's meeting, Worachai said the military officer asked him not to mobilize his supporters in Samut Prakarn for any protests.
Worachai said he assured the colonel that he had no intention to oppose the military junta or call on his supporters to engage in any political activities, but added that he would continue to express his opinions about the military government.
"I told him to inform the Prime Minister and leader of the NCPO that what I said were facts. Please listen to us sometimes," said Worachai, using an acronym for the junta's formal name, the National Council for Peace and Order. "I will continue to speak about matters that benefit the nation and people – constructive criticism. I want to reduce the problems that can happen in the future."
He added, "If [Gen. Prayuth] wants me to stay silent in the face of injustice, that might be impossible. If I do, the Constitution may be completed, but the problems won't go away. The charter will be bad. New conflicts will happen."
More than 300 politicians, activists, and academics perceived to be sympathetic to the former government were publicly summoned and briefly detained in military camps in the weeks following the 22 May 2014 coup. The wave of summons orders winded down in July.
Gen. Prayuth renewed the summon orders last week in response to the uptick in public criticism that followed Yingluck's impeachment.
Worachai is well-known for submitting a draft of an amnesty bill to the Pheu Thai-controlled parliament in 2013 that would have dissolved lawsuits and convictions of anyone involved in political protests since the 2006 military coup. He said the bill was intended to free "political prisoners" from jail cells, and foster "reconciliation" in the polarized Kingdom.
However, the scope of the bill was vastly extended by a house committee and abruptly passed at 4am in the morning in November 2013. The bill was immensely controversial and widely interpreted as an effort to allow for the return of Yingluck's brother and the de facto leader of the Redshirts, former Prime Minister Thaksin Shinawatra.
The bill sparked massive anti-government street protests that eventually led to the military coup in May 2014.