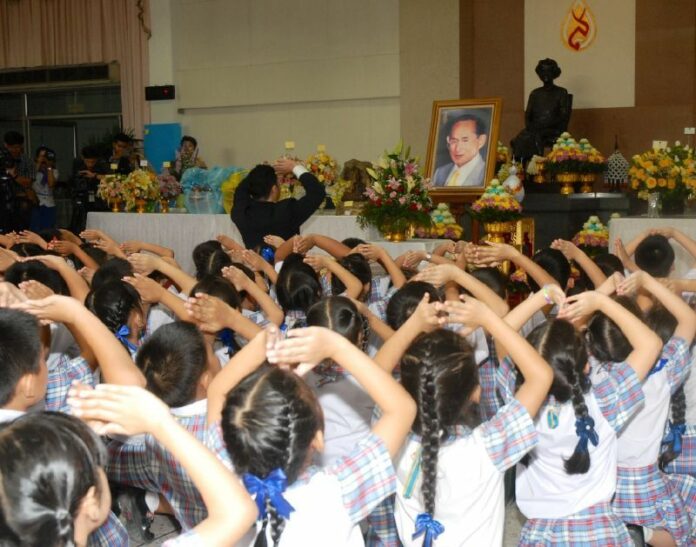 BANGKOK — A criminal investigation has been launched into a fake document that claimed to be a statement issued by His Majesty the King last night, according to a spokesperson for Thailand's military government.
"The government would like to condemn those who brought it to social media," said Maj.Gen. Sansern Kaewkamnerd, an hour after the statement began circulating on the internet at 9pm last night.
The notice said King Bhumibol, 87, had decided to appoint a Regent to act on his behalf. Due to strict laws that criminalize any remarks deemed critical of the monarchy, Khaosod English is withholding other information related to the document.
The document was widely shared on social media, and even reproduced on the website of a royalist newspaper, ASTV Manager. However, many commenters on social media questioned the notice's authenticity, pointing to several misspellings and other breaks from the traditional form of royal palace statements.
"The government would like to stress that the information being published is not true," Maj.Gen. Sansern said. "The public must not be misled by it."
He added that the government has launched a criminal inquiry to identify and prosecute the person responsible for the document.
Faking a statement that purports to be issued by His Majesty the King or the Royal Palace is a radical and unprecedented act in Thailand, where the king is widely revered as a demi-god and any insult of the monarchy can be punished by up to 15 years in prison.
His Majesty the King is currently residing at Sirirraj Hospital in Bangkok for treatment of several illnesses. His frail health has been a cause of anxiety for many Thais.
ASTV Manager later pulled the fake royal statement and published an apology notice.
"The document was a false statement with untrue information, which was forged by ill-intention individual," the notice reads. "The website would like to apologize for its mistake."