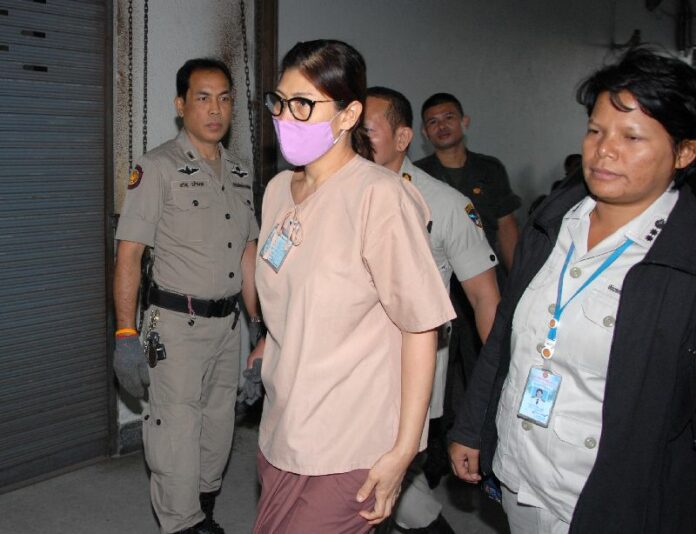 BANGKOK — The sister-in-law of Thailand's Crown Prince was found guilty of insulting the monarchy in court today.
Sudathip Muangnuan was sentenced to two and a half years in prison for citing her status as the sister of former princess Srirasmi, the wife of Thailand's Crown Prince, to sell overpriced food products to the royal palace for the past 12 years.

Sudathip Muangnuan arriving at the Criminal Court in Bangkok on 2 Feb 2015.
According to the complaint filed to the Criminal Court by the Royal Household Bureau, Sudathip won the rights to supply the palace with food products like chili paste by using her connections to the Royal Family to pressure other competitors to drop out of contract bid.
Today judges found Sudathip guilty of violating Thailand's lese majeste law, which criminalizes insulting the monarchy with a maximum penalty of 15 years in prison.
Her sentence was reduced from five to two and a half years in prison because she confessed.
"The remarks of the defendant were slanderous, laying false claims to and insulting the monarchy," the court briefing reads. "She violated, made false accusations toward, and caused damages to the Royal Majesty."
Sudathip was arrested on 10 December 2014 and identified by police as a conspirator in a massive corruption and extortion ring run by high-ranking police officers in the Central Investigation Bureau (CIB). At least 26 people have been arrested in connection with the alleged crime syndicate.
Many of the suspects are related to former princess Srirasmi, such as Sudathip, Pol.Col. Nattapong Akharaphongpreecha, and Pol.Lt.Gen. Kowit Wongrungroj, the sister, brother, and uncle of Srirasmi, respectively.
Last Friday, Pol.Lt.Gen. Kowit Wongrungroj and his commanding officer, former CIB chief Pol.Lt.Gen. Pongpat Chayapan, were sentenced to six years in prison for defaming the Crown Prince and running an illegal casino.
In response to the scandal, Crown Prince Vajiralongkorn stripped Srirasmi's entire family of the royally-bestowed surname Akharaphongpreecha, forcing them to revert back to their "commoner" surname, Suwadee, on 30 November.
Less than two weeks later, on 12 December, the Royal Household Bureau announced that Srirasmi had resigned from her status as a member of the Thai Royal Family. She moved out of the Crown Prince's palace in Bangkok to live with her parents in Ratchaburi province and has not been seen in public since 13 December, when she applied for a new national ID card as a commoner.
It is unclear whether Srirasmi and the Crown Prince are formally divorced. The couple married in 2001 and have one 9-year-old son.
Read more:
Police Expand Investigation Over 'Lese Majeste Foodstuff Conspiracy'
Ex-CIB Chief Gets 6 Years for Defaming Thai Crown Prince